If you have not done it, I know you've thought about it! Color is such a fun way to switch things up whether you are natural, relaxed or rock extensions. Even braid hair comes in grey toned ombre hair to suit the latest trend.
Trends can last a lifetime, while fads last about 10 minutes. Grey hair is proving to be a strong, long lasting trend. There are though some realities you may want to consider before you choose to take the grey route.
As a hairstylist, I have to inform my clients that grey may not happen within one visit. It is important that your hair is healthy enough for the color to hold, therefore patience during the lightening process is important. On a scale of 1 to 10 , 1 is black and 10 is blonde. Your hair needs to get to a level 9-10 to achieve a subtle or rich grey tone. If you have naturally dark hair, or previously colored hair, it could take anywhere from 1-3 lightening processes to get you there.
This may not be the best process for hair that is relaxed especially if you are concerned about length retention. Double chemicals processing of the hair can do a number on it that may not be able to dial back down.
If you have extensions, this is much more achievable. You can purchase #613 blonde and let your stylist do their thing!  Check out this tutorial of how to go from ash blonde to grey.
Hair care after coloring is extremely important as the hair can become dehydrated through this process. Be sure to give your hair and your stylist patience and get ready to commit yourself even more so to a regimen allowing for maximum moisture retention.
The following two tabs change content below.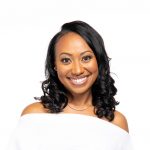 Brandelyn Green is the Founder of VoiceOfHair, a platform to help women of color find the best hair care products, regimens and hairstyles! Since starting VoiceOfHair in 2014 she has grown the social media platform to over 1MM+ on Instagram and Facebook. As a natural who is also a salon goer, she wanted to create a platform where people could find the best products, hairstylists, advice and trends.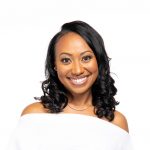 Latest posts by Brandelyn Green (see all)
Facebook Comments