A woman's hair is often the first thing a person notices about her. It enhances her personality and is an important part of her appearance, as it sets the tone for her entire look.  This is why it is only natural for us to want to try out different hairstyles and change up our hair routines every now and then.   
However, one problem with constantly changing your hairstyle is that it can actually make it harder to retain length and strength.  Manipulating your hair can  lead to breakage and split ends (not always), depending on what you're doing to it.  Fortunately, there are some things you can do to maximize growth and retain length.
If you think your hair is no longer as healthy or is no longer growing as much as it used to, or if you simply want to make your hair stronger and longer, then read on.
AVOID USING HEAT ON YOUR HAIR
Using too much heat on your hair can make it dry and brittle, increasing the chances of frizz and breakage to accumulate. If you blow your hair, make it a habit to use the cool settings.
Otherwise opt for styles that don't require heat, such as "protective styles."
KEEP YOUR HAIR MOISTURISED
Lack of moisture can be the reason behind split ends, slow hair growth, and excessive hair breakage. Hair needs water to stay hydrated and enjoy good hair growth. Moisture is the key to healthy, growing hair.  Remember that oils alone do not moisturize your hair.  Only water or water based products (those products which have water as the first ingredient) can add moisture to your hair.  Oils can, however, seal in that moisture for you.  
Seal in moisture in  your hair with the right oils such as castor oil, jojoba oil, coconut, olive and shea butter or products that have these oils in them. Try using the PureFix Hair Elixir which is a great scalp moisturizer (while promoting growth). It moisturizes and nourishes hair to support healthier hair growth. 
For more on how to keep your moisturized, check out this post on the LOC method.
EAT HEALTHY, DRINK WATER
Whatever you put in your body reflects how your hair would look. Eat food that are proven to help with hair growth, such as garlic, onion and cayenne pepper. Drink lots of water to keep not only your skin moisturized, as well as your hair.
Feed your hair well and it'll reward you with luscious tresses.
WEAR A PROTECTIVE HAIRSTYLE
True to its name, protective hairstyles aim to protect. It aims to limit the stress of environmental factors on natural hair. Some protective hairstyles can cause strains on your strands such as box braids and jumbo cornrows. However, you can always opt for weaves.
TRIM YOUR HAIR WHEN NEEDED
You should trim your ends at least every 2-3 months but if you're doing more heat styling you will likely need a trim every 6 weeks to 8 weeks. Many naturalistas make the mistake of trimming their hair once or twice a year because they aren't using a flat iron, but using blowdryers and wearing braided styles can also wreak havoc on your ends. If your ends are not trimmed regularly the hair will split from the ends up the shaft and poof…your length will go right out the door!
These may sound like simple tips, however if you use them in combination with each other you'll be on your way to reaching your hair goals.

The following two tabs change content below.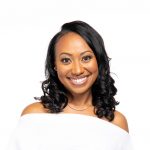 Brandelyn Green is the Founder of VoiceOfHair, a platform to help women of color find the best hair care products, regimens and hairstyles! Since starting VoiceOfHair in 2014 she has grown the social media platform to over 1MM+ on Instagram and Facebook. As a natural who is also a salon goer, she wanted to create a platform where people could find the best products, hairstylists, advice and trends.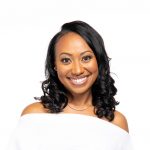 Latest posts by Brandelyn Green (see all)
Facebook Comments