No matter your hair type or texture, nobody wants tresses that aren't cooperative.  Most commonly, women are looking to combat frizz and keep their hair smooth.  This has made many women turn to keratin treatments for the answers to their problem.  While half of these women have dove in head first, others are wary of this process and its effects.  Despite how scary the unknown is, Keratin treatments are far more beneficial than just beating the frizz.
What is a keratin treatment?  This process is a temporary chemical straightener, lasting up to 2 months on average.  Before receiving the treatment, clients are shampooed with a clarifying shampoo, ridding the hair of all residue, then skipping the conditioning step at the sink.  After being transferred to the salon hair, the treatment is sprayed on in horizontal sections and combed through for even distribution of product.  Clients are then blowdried smooth and the treatment is infused/sealed into the hair with passes of the flat iron (amount of passes is determined by the manufacturers instructions specific to each brand's formula).  Clients can wash their hair 2-3 days after, giving the treatment time to settle in.
Keratin treatments are not recommended for fine, straight hair.  However, I find that they're perfect for curly girls wanting versatility without a strong commitment.  In depositing the treatment, a chemical and physical change takes place.  The beauty in this is that keratins, unlike relaxers, wash out over time.  Loosening the curl 40%-60%, extremely curly girls usually notice a looser curl with a smoother appearance.  This gives naturalistas that may not be too fond of shrinkage the ability to experience curl elongation, even with a wash and go.  On the flip side (insert freshly blown out hair flip here), after keratin treatments, silk presses last longer and drying time is cut down tremendously.

Take a look at this clip from @cynthialumzy of the process of straightening hair with a kertain treatment.
Is a Keratin helpful? With our hair strands being made of this exact protein (fun fact: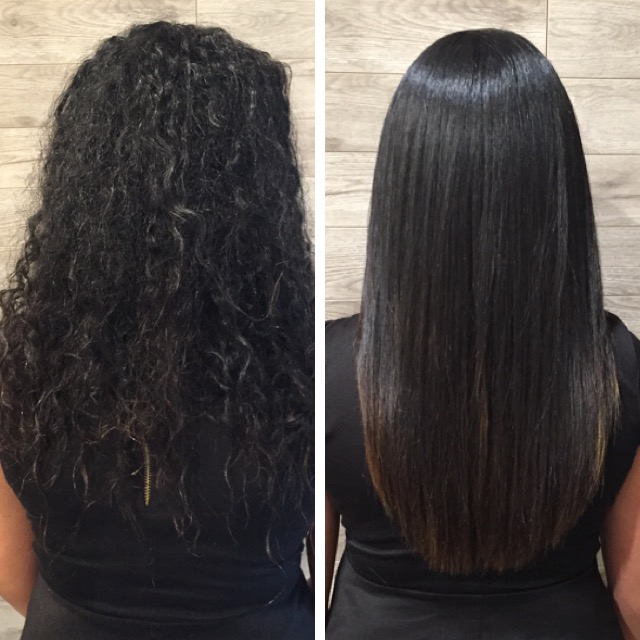 hard
keratin is what makes up hair and nails), this treatment infuses the hair with its natural composition.  While many women have fears of this being a damaging process, it is actually strengthening.  By adding more keratin, hair strands become reinforced.  In hair with
low porosity, keratin treatments act as fillers, with the treatment infusing itself into holes within the strand.  This helps diminish frizz by giving the strand an overall smoother appearance and also evens porosity which heightens moisture retention.
Can Keratins be damaging?  OF COURSE it can.  Clients should never forget that a keratin treatment is still a chemical process.  In undergoing this scientific transformation, your hair's new structure should be accommodated.  As with any protein treatment, keratin tends to pull moisture out of the hair.  For curly girls, who already struggle with natural moisture distribution, this can make hair more susceptible to breakage.  Following keratin treatments, build a regimen that includes deep moisture treatments.  Also, utilize leave in conditioners before styling to ensure optimum hair health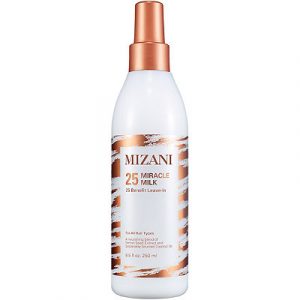 (Try 25 Miracle Milk by @Mizaniusa). Keep in mind that this chemical treatment may also have some long lasting effects, no matter how well you take care of it.  Your natural curl returning to its original state is NOT a guarantee.  A loosening of curl type, even after the keratin treatment expires is probable.  Just as with a color service, curls vary and can be affected by this chemical process.  In most cases, the long-lasting difference would not be noticeable.  However, for clients who are over protective of their curl type, this may not be the service for you.
If you want the best of both worlds, a keratin treatment is an amazing alternative to popular straightening methods.  The pros outweigh the cons when it comes to the right client for this treatment.  Think you might want to try a keratin treatment on for size?!  Visit your favorite licensed cosmetologist and discuss your lifestyle to decide whether a Keratin is right for you!
The following two tabs change content below.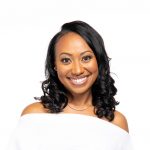 Brandelyn Green is the Founder of VoiceOfHair, a platform to help women of color find the best hair care products, regimens and hairstyles! Since starting VoiceOfHair in 2014 she has grown the social media platform to over 1MM+ on Instagram and Facebook. As a natural who is also a salon goer, she wanted to create a platform where people could find the best products, hairstylists, advice and trends.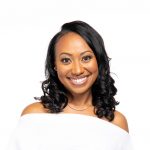 Latest posts by Brandelyn Green (see all)
Facebook Comments