Atlanta hairstylist , Chantelle Nunes-Norman, is known for creating picture perfect hair. With over 100K followers on Instagram (@HairByChantellen) and thousands of reposts of her work, she has made her mark in the hair industry and with natural hair lovers because of her precision hair cut, custom hair coloring and silk press techniques– all while maintaining healthy hair for her clients.
In an exclusive interview, we spoke with Chantelle about her straightening techniques she uses in her salon, Bella Dama, in Atlanta, GA.
So what exactly is a silk press? Isn't that the same as a "press and curl"? Not exactly.  An old fashioned press and curl would require the use of an oil based substance (my grandmother used Blue Magic back in the day) to apply to dry hair before applying the hot comb.  The heat from the pressing comb, combined with grease/oil would help straighten the hair.  Well, the problem with this is that it leaves the hair feeling heavy, stiff and downright greasy! Yuck!  Today, many stylists are opting for a silk press, in which titanium or ceramic flat irons are use to "silk out" the hair or straighten it.  Stylist and blogger, LaToya Jones, explains the difference in more detail here.
However, just applying the flat irons to dry hair will not give you the results that you see in Chantelle's pictures.  Chantelle's silk press process involves a number of key steps:
Washing hair with a clarifying shampoo, followed by a hydrating shampoo
Hydrating the hair (with either a steam treatment or using towel hydration)
Deep conditioning the hair (with either a conditioning mask or deep conditioner)
Blowing out the hair while wet (getting the hair very straight)
Silk Pressing the hair with titanium flat irons
Cutting & styling the hair
Chantelle told us that the key to getting the hair silky is applying moisture back into the hair before straightening it. "If you have moisture in the hair, you don't have to work as hard to straighten it."  This is a step many stylists skip, which result in heat damage on their client's hair– but is not the case with Chantelle's process.
Chantelle says that getting the perfect silk out is not just about the product one uses, but about the process and knowing your client's hair.  She says that some clients whose hair isn't as tightly curled don't need multiple pass throughs with a flat iron. Some of the products that she uses are Keracare, Morrocan Oil and Design Essentials, but no one product is the key.
If you are interested in mastering this technique for your clients, stay on the look out for Chantelle's silk press classes at her salon,  Bella Dama or follow her on Instagram (@HairByChantellen) for updates!
The following two tabs change content below.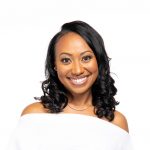 Brandelyn Green is the Founder of VoiceOfHair, a platform to help women of color find the best hairstyles and hairstylists! After living in 8 cities and in Sweden within a 10 year span Brandelyn became frustrated after trying to find trusted hairstylists who could help her maintain her natural hair. Since starting VoiceOfHair in 2014 she has grown the social media platform to over 1MM+ on Instagram and Facebook. As a natural who is also a salon goer, she wanted to create a platform where people could find the best products, hairstylists, advice and trends. VoiceOfHair provides hairspiration (hair + inspiration) as well as styling tips for women with relaxed and natural hair!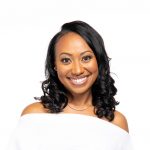 Latest posts by Brandelyn Green (see all)
Facebook Comments