Even with some states starting to reopen, for many people social distancing is still in full effect due to COVID-19. As a result of this, women are having to find creative ways to maintain healthy hair. If you are in need of some easy hair styles to wear, we have created a list of 5 Easy Hairstyles you can do to look stunning.
#1 Wand Curls
Curls are a girl's best friend and an easy hairstyle to do! You can create some beautiful hairstyles with wand curls, including tightly defined curls and loose curls. Wand curls is a easy way to maintain your hair and even freshen up an old silk press.
#2 Head Wrap
If you are looking for a quick and easy hair style, then you are going to love doing head wraps. Head wraps are great for protecting your hair and keeping a simple look for a quick run to the store. If you don't know how to tie a head wrap, it is no problem. Here are 8 head wrap cheat sheets if you do not know how to tie one.
#3 Perm Rods
The perm rod set is a simple yet versatile protective style for all hair types. This style can be worn on almost any hair lengths, from tapered cuts to bra strap lengths. Here is an 8-step guide on how to use the perm rod on your hair. Regardless of your hair length, this is an easy hair style you can do during quarantine.
#4 Ponytail
Ponytails are a classic and easy hair style that you can always wear. I know for so many women that ponytails are the best go-to style. Ponytails are very easy to do during quarantine or even taking a cute Instagram selfie.
#5 Flat Twist
Flat twists are a super-versatile look that can be customized to fit anyone. You can wear flat twists as a super-chic updo, back into a bundle of curls, or even around your whole head. I love that flat twist are easy enough for you to do that pretty much anyone can do this style. If you do not know how to do a flat twist, here are some steps.
BONUS
#6 Pixie Mold
I want to give you a bonus easy hairstyle. I could not help it. Pixie molds are one of the most classic and chic styles that you can wear with a short hair cut. This is the perfect style for relaxed hair or hair that is a fine texture. Ideally, this style works well on freshly washed and conditioned hair, when your short hair has grown out, but you're not quite ready (or able) to cut it. Simply take a generous amount of styling foam and slick the hair down with a small tooth comb. You can either create finger waves or keep the hair slicked straight down. Once your style is set, take the wrap paper on top and sit under the dryer for about 30-45 minutes. After it is dry, add a bit of finishing oil.

This article was first published on May 5, 2020 and updated on August 16, 2021.
The following two tabs change content below.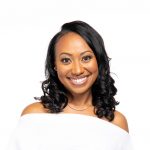 Brandelyn Green is the Founder of VoiceOfHair, a platform to help women of color find the best hair care products, regimens and hairstyles! Since starting VoiceOfHair in 2014 she has grown the social media platform to over 1MM+ on Instagram and Facebook. As a natural who is also a salon goer, she wanted to create a platform where people could find the best products, hairstylists, advice and trends.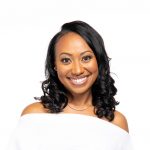 Latest posts by Brandelyn Green (see all)
Facebook Comments