It's no secret that hot oil treatments work wonders for your hair.  Did you know that these treatments help stimulate blood flow to your scalp, which in turn promotes hair growth?  No matter the season or climate that you live in there are so many benefits to using hot oil treatments on your hair.  In this article we will cover why hot oil treatments are good for your hair.
What is a Hot Oil Treatment?
Hot oil treatments are used to give hair a deep conditioning treatment. These treatments are particularly helpful to prevent damage to hair or to help reduce existing damage. They are also great for moisturizing dry hair.
Hot oil treatments  your hair is meant to mimic the natural oils found in our hair (sebum).  Frequent washings removes the natural oils in our scalp and causes dry hair as well as an overproduction of sebum, which builds up within a day or so.
What are the benefits of Hot Oil Treatments?
Restores moisture balance to your hair
Prevents frizz and protects from dry scalp and dandruff
Seals Moisture into your Ends
Smooths the hair cuticle to soften dry, rough hair
Increases blood circulation to your scalp
Prevents split ends by sealing in moisture into the hair shaft (and preventing it from splitting)
Strengthens and nourishes hair which helps appearance of shiny hair
Helps bring brittle dry hair back to life by adding shine and luster
Hot oil treatments are a luxury that is easily achieved at home. Common oils for hot oiling are:
Argan Oil
Amla Oil
Coconut Oil
EVOO (Extra Virgin Olive Oil)
Grapeseed Oil
Sweet Almond Oil
Sesame Oil
Jojoba Oil (this is closest in texture to sebum)
Common Essential Oils for hot oiling:
Rosemary
Peppermint
Tea Tree
Grapefruit
Which Oils Are Best for Dry Hair & Scalp?:
If you're looking for the perfect blend of oils that help protect and nourish the hair while boosting hair growth you can try this oil.
A Hot Oil Treatment Video
Here are just a few things you will want to have handy when doing your DIY hot oil treatment.
Materials:
Warm water
Applicator bottle
Natural oil of choice
Oil of your choice
Wide tooth comb
Heat source (e.g. a heating cap, hooded dryer, a damp towel that has been heated or by using your natural heat with a cap on your hair)
Pot
Cap
Step 1: Wash Hair. You can wash your hair with your regular shampoo.
Step 2: Heat the oil. Take your small glass container and pop it into a small bowl that's filled with very hot water. You'll want the water level to be just as high as the level of oil in your container
Step 3: Apply the oil to your hair, starting at the scalp. One thing your scalp really needs is stimulation. So when you start applying your hot oil hair treatment, do it at the very roots of your hair and rub in circular motions. Once you've massaged your scalp with the oil for 3-5 minutes, move on to applying it down the shaft of your hairs. This is where you can be a little less liberal with your oil application.
Step 4: Cover your head with a shower cap. Let the treatment stay on your hair for at least 30 Minutes. You can keep the hot oil treatment on your hair overnight should you wish to do so.
Step 5: Wash your hair using a moisturizing shampoo and lukewarm water. Remember to apply conditioner afterwards.
It's that simple!
This article was updated on June 14, 2021.
The following two tabs change content below.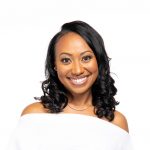 Brandelyn Green is the Founder of VoiceOfHair, a platform to help women of color find the best hair care products, regimens and hairstyles! Since starting VoiceOfHair in 2014 she has grown the social media platform to over 1MM+ on Instagram and Facebook. As a natural who is also a salon goer, she wanted to create a platform where people could find the best products, hairstylists, advice and trends.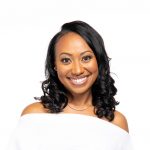 Latest posts by Brandelyn Green (see all)
Facebook Comments