This article contains affiliate links.
We've partnered with the #1 recommended hair extensions brand by over 60,000 stylists, Mayvenn Hair Extensions, to provide the Voice of Hair community with some HAIRSPIRATION on bridal looks for summer 2017 from their Real Beautiful Blog.
Let's be honest, as much as bridal fashion trends have become the epitome of elegance and style, many of us still cringe at brides who miss the mark with the questionable dresses and hairstyles they've chosen for themselves. While we're whispering, That could never be me, to ourselves, let's not forget about that little concept called karma. Anyone can fall victim to bad style on their wedding day, but we're going to make sure you're not one of them, dear reader.
We've curated ten looks that would make your groom sing "Bad And Boujee" instead of "Thriller" as you walk down the aisle for your springtime wedding. Keep scrolling for hair inspiration!
The "Pixie Perfect" Look
This look is for those short hair lovers who love to accentuate their bone structure with a chic and sexy cut! Our ambassador, @Kimclarkartisty pulls this look off by wearing bold jewelry and a subtle pop of color in her curls. This cut is modern yet sexy!
The Natural Fro Look
This look is for all of my natural beauties! You can totally rock your natural and SERVE during your wedding.  What adds to this look is the pop of color in her tapered fro as well as the delicate veil that she accessorizes her gown with.  If you want bit more definition to your curls then you can opt for a perm rod set or twist out.
The Braided Bob Look
Lovers of bobs and braided crowns, look no further. This bride braided the middle section of her hair and created a forehead braid crown that gently tucked into her bob-cut hair that has been curled. Show this picture to your stylist to copy the style. Mayvenn's 14-inch straight hair can achieve this particular look.
The Sleek Bun Look
Utilizing Mayvenn's straight hair in 20 inches, you can achieve this chic bride's look by parting your hair down the middle and brushing it towards the lower back and center of your head. Then, twist your hair into a bun for a sleek finish; this style is a must have for low-maintenance brides.
The Blonde Bombshell Look
Here's a trend we don't often see at weddings: brides with dyed hair. And to be honest, this is a perfect look for brides getting married during the spring and summer months. For her beach wedding, this bride glows up a simple middle-parted hair style with her ombre hair color. Use flexirods with Mayvenn's 16-inch dark roots and blonde straight hair to get this look.
The Curly And Free Look
If you want to ditch flatirons or blow-dryers and embrace a more natural look for your wedding day, use Mayvenn's curly hair in 12,14 and 16 inches. Although this particular type of Mayvenn hair only comes in natural black, you can have your stylist bleach and color the hair for a honey blonde look. For instructions on how to do it yourself, read this article.
The No Hair Don't Care Look
If you're rocking a caesar or fade haircut, you can still get in on the hair action! This look allows you to have all eyes on your earrings or your makeup. You'll break the norm and show off your stunning natural beauty.
The Iconic Finger Waves Look
No matter what decade it is, finger waves will always be in style! And what better way to wow your guests than with this 1920's classic. You can accessorize your finger waves with a headband or sequined veil.
The Textured Up-do And Fishtail Braid Crown Look
This stunning look calls for lots of texture, so grab Mayvenn's new kinky straight hair to get started. Section your hair into two parts. Then, style the lower half into a French twist and braid the upper-half into a fishtail braid. Adorn with a jeweled headpiece for an extra regal touch.
The Polished Ponytail Look
A sleek ponytail is a classic look that never fails. Whether it's your first date or your wedding day, this hairstyle brings the focus to your face, clothes and accessories. By having such a sophisticated hairstyle, this bride steals the show with her low-cut dress while still looking elegant as she flaunts her sexiness— a total win-win in our book. Mayvenn's 20-inch straight hair can be used for this look.
Are you tying the knot soon? Let us know when your big day is in the comments!
Be sure to check out the Real Beautiful Blog by Mayvenn for more hair care tips and inspiration!
The following two tabs change content below.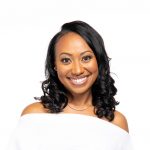 Brandelyn Green is the Founder of VoiceOfHair, a platform to help women of color find the best hair care products, regimens and hairstyles! Since starting VoiceOfHair in 2014 she has grown the social media platform to over 1MM+ on Instagram and Facebook. As a natural who is also a salon goer, she wanted to create a platform where people could find the best products, hairstylists, advice and trends.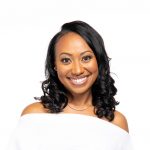 Latest posts by Brandelyn Green (see all)
Facebook Comments