In the 90's hair was accessorized by metallic pins in French rolls, butterfly clips, and from the 99' well into the 2000's many of us embellished our hair with decorative chop sticks.  While it seems as if those hair accessories are a thing of the past, that is apparently false!  Hair accessories gained a great deal of popularity or resurgence throughout summer 2017.  Here are three suggestions on how you can step your hair game up with trending hair accessories:
Bob Pins -Let the pins fall how they may! Get creative with your bob pin designs and placement.  This accessory serves a dual purpose of holding hair in place while providing decoration.
Floral Avant-Garde Halo Headband – Imagine the Snapchat filter headband in real life but with much more versatility and a high fashion flair!  This type of headband can bring glamour or funky fun!
Hair Clips and Wraps for Braids/Locs – Whether hair is loc'd, straight, or curly, these accessories (when worn together or separate) add color and expression to any hairstyle!
Comment, try these looks, and of course feel free to tag us in your posts rocking these accessories or others that help you step your hair game up!
The following two tabs change content below.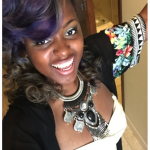 Shané is a senior cosmetologist and the proprietor of Back to the Shop- an online magazine that explores black beauty culture beyond aesthetics/looks. Shané holds Bachelor and Master degrees in English, and she is currently pursuing a PhD in African American Studies/ Africology. As a native of the D(M)V, Shané has a front seat to the trends in the nation's capital and abroad. With her mastery of English, tenure in the beauty industry, and her appreciation of culture, Shané offers a unique perspective on beauty matters.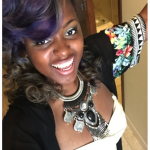 Comments
comments