Have you ever felt like your hair is just blah? Maybe you really like your length or  are in love with your cut, but you're still bored?  Maybe it's time you consider adding/changing your hair color!  Purple and grey hair are really on trend, however the addition of any bold color can help you stand out.
You may be thinking "I'm scared that it will damage my hair or my texture."  While that may be true there are other options for adding some color to your life.  Also, it is highly recommended that you see a professional to apply hair color to your hair, so that you can avoid damage.  See the styles below to get some "hairspiration".
Sew In with Custom Color: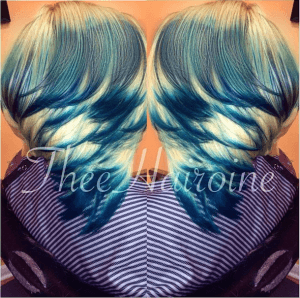 This bob install done by Chicago Hairstylist @Thee_Hairoine_ (Devonna Christmas) is amazing because of the ombre color and contrast between dark blue and green with the light grey/blonde.  It's really a masterpiece!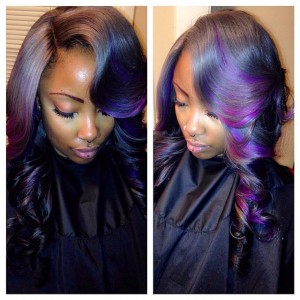 Memphis, TN stylist  @AmberDanny (Amber Danielle) shows us how versatile weave can be.  By adding the purple and grey ombre to this sew in, she makes this look stand out! The install was already flawless, but after adding this custom color, she makes it AMAZING!
Crochet Braids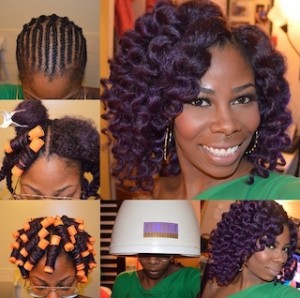 Fashion Designer @Kira_Nacole (Kira-Nacole) is known for her fashion sense and her gorgeous crochet braids.  In this pictorial, she shows us the process of how she applies crochet braids. What makes her crochet braids stand out is that she uses a deep purple hair color.  That color is so rich and looks great against her skin.  If you'd like to learn how to install these, check out our article here.
Faux Locs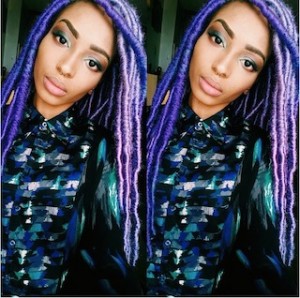 These gorgeous faux locs on@ElaineAfrika (Elaine Afrika) are so fierce because she opted to add beautiful pastel colors.  You can learn more about Elaine here.  Her hair is so fun showcases her bright and colorful personality.  These faux locs installed by Sickleville, NJ Stylist @Alicehairbraiding look so natural.
ShortHair
Virginia Stylist @AnthonyCuts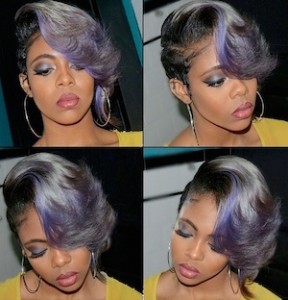 (Anthony Elliot) takes  this sexy pixie cut to the next level by adding baylage ombre with grey and purple.    She looks amazing and so chic!  
Bob Cut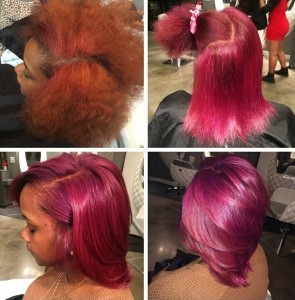 Atlanta hairstylist @_JoilsaB (JoJo) shows us the difference in your hair when you have the right color applied! This rich red color goes great with her skin tone!  If you want to contact JoJo for an appointment, you can schedule with her at www.styleseat.com/JoilisaB.
As you can see, hair color is a great way to change up your look.  Are you thinking about making a change to your hair? Want to see what you would like with a certain hair color? Check out www.taaz.com, a virtual makeover site where you can upload a pic and try on different styles and colors.
Comment below and let us know your thoughts!
The following two tabs change content below.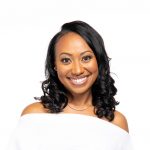 Brandelyn Green is the Founder of VoiceOfHair, a platform to help women of color find the best hair care products, regimens and hairstyles! Since starting VoiceOfHair in 2014 she has grown the social media platform to over 1MM+ on Instagram and Facebook. As a natural who is also a salon goer, she wanted to create a platform where people could find the best products, hairstylists, advice and trends.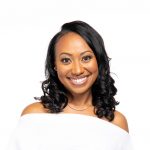 Latest posts by Brandelyn Green (see all)
Facebook Comments