As a master stylist for over 12 years I've seen fabulous products, such as Graham Webb, and not so great products (of which I won't mention) come and go. I have managed to find the perfect product for every hair type; the not so thick but coarse hair, fine hair and hair that reflects the early signs of female patterned baldness. However, there is one product that I searched and searched for and  and purchased over and again. After years of searching I have found THE PERFECT products for a… Curly Weave. Yes God! Now this may not seem to be very important to you. If you don't wear a weave  it is completely understandable that you may not agree, however, there may come a time when you decide to go on a trip and a curly weave is MANDATORY!

So lets get right into, the ultimate curly weave hair care line is by Just For Me. I know, I know it may sound crazy, but believe me it really works. The Hair Milk line from Just For Me not only moisturizes the hair but also adds shine and dynamic curl definition. Here are the specs on the line from shampoo to styling products
Hair Milk Nourishing Cream Cleanser

With a triple blend of shea butter, soy-milk and honey, the super-rich lather bathes each strand to help alleviate dryness, tangling and breakage. Leaves hair silky-soft with finger-through manageability, easing the detangling process from the very start of the shampoo phase. Ideal for tight, curly or wavy textures.
I recommend this shampoo for the Kinky Curly or any curl pattern that is extremely tight, as it eases in detangling and conditioning  the hair.
Hair Milk Shampoo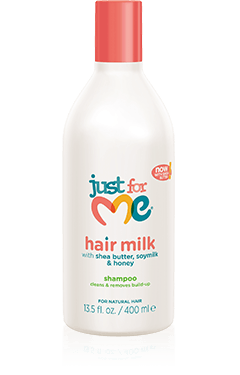 Formulated with a triple blend of shea butter, soy-milk and honey, the formula gently cleanses hair for soft, silky, healthy-looking curls. Ideal for curly or wavy textures.  This leaves your hair feeling moisturized.
Hair Milk Conditioner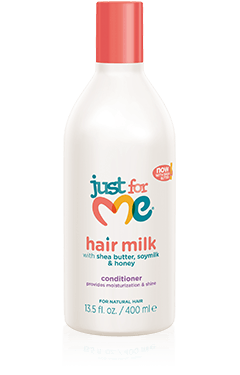 Formulated with a triple blend of shea butter, soy-milk and honey, the conditioner revitalizes tight, curly or wavy textures for hair that's nourished and easy to comb.
This product is for the spiral curl pattern type and loose curls or wave patterns, it is nourishing but no too heavy, so it doesn't weight the hair down. After the shampoo and conditioning the hair is light full of body and soft.
Hair Milk Nourishing Detangler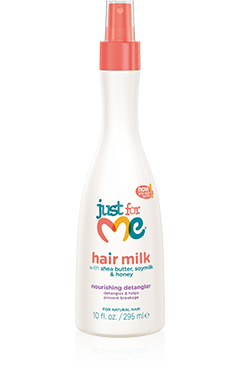 Just For Me® Hair Milk Nourishing Detangler includes a triple blend of shea butter, soy-milk and honey in a protective leave-in spray. Helps make wet or dry hair more manageable and less prone to damage when combing and styling. Ideal for tight, curly and wavy textures. Formerly known as our Straightening Mist.
This is my go to in between my 2 week cleansing I use this about every 3 days to detangle the hair.  
Hair Milk Curl Smoother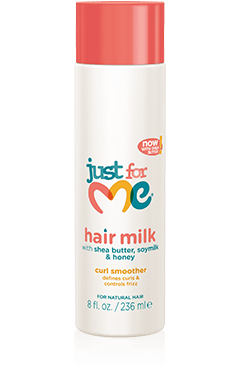 A lightweight, milky formula that helps control frizz and leaves curls bouncy, touchable and beautifully defined. Ideal for all hair textures..

The Curl perfecter is what I follow with after the detangler it aids in smoothing out the curls because curly hair can sometimes be frizzy hair.
Smoothing Gel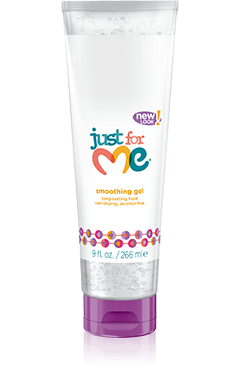 Formulated with keratin proteins, Just For Me® Smoothing Gel provides long-lasting hold without all the flakes for everyday styles. Suitable for use on wet or dry hair.
I absolutely love this gel OMG it is everything with out the flakes and hardness of most gels on the market. This is my last product I use to define my curls and then I'm out for the day!.
That's it for now! So if you're in the market for a product for curly hair or hair extensions, you may need to check this one out.  Let me know your thoughts!
Till next time stay beautiful..
Chevon Sharp, Master Stylist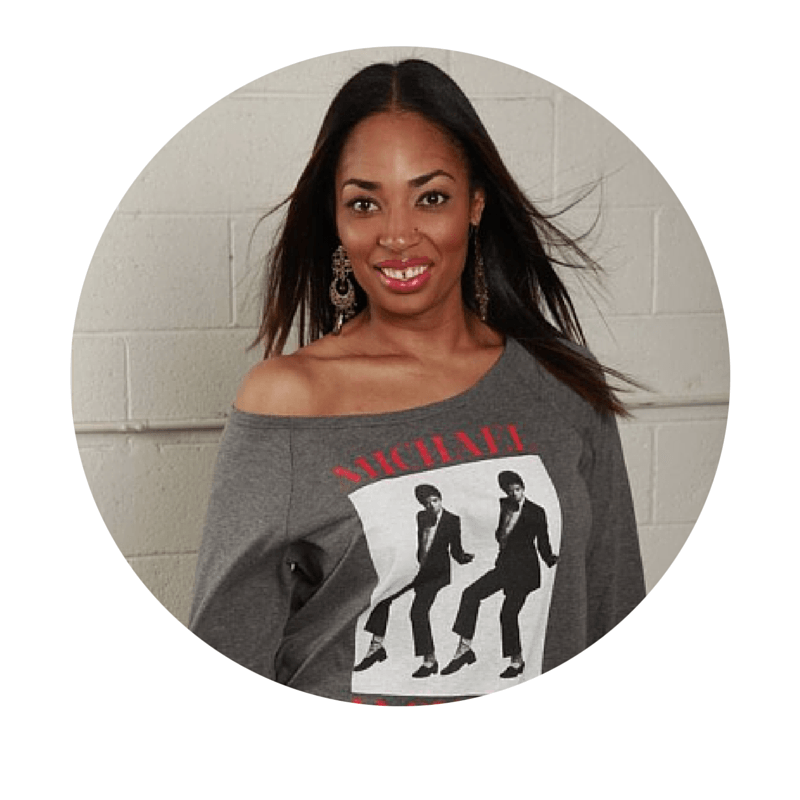 The following two tabs change content below.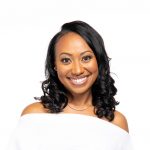 Brandelyn Green is the Founder of VoiceOfHair, a platform to help women of color find the best hair care products, regimens and hairstyles! Since starting VoiceOfHair in 2014 she has grown the social media platform to over 1MM+ on Instagram and Facebook. As a natural who is also a salon goer, she wanted to create a platform where people could find the best products, hairstylists, advice and trends.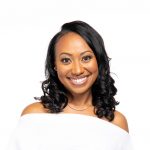 Latest posts by Brandelyn Green (see all)
Facebook Comments