In recent years D.I.Y (do it yourself) hair styles have taken the world by storm.  There are countless tutorials on YouTube teaching various hairstyles that you can do at home.  The real the question is, is it worth doing at home yourself? Before anyone gets offended, let me explain. There are some hairstyles that are perfectly safe to do that do not cause any harm to the health of your hair.  Hairstyles such as; wigs, the popular crochet styles, formal up do's and braids are usually safe to try on your own.  On the other side of the spectrum, some practices can be extremely harmful to your hair.  Here are 3 hair practices you shouldn't try at home:
At home hair coloring. People often think that because hair coloring is sold in retail stores that it is safe to do at home.  However, if you don't know what you're doing you can over process your hair and cause it to break or ruin your natural curl pattern or end up with the wrong hair color. All of this could require you to spend more money trying to fix your hair.
Cutting your own hair. This is a big one! There are definitely people who are skilled and flexible enough to cut their own hair– but trust me, that is not the majority. The biggest issue with cutting your own hair is that you can't see all angles of your head.  Whether it's a trim or a true hair cut, leave this one to the pros.
Relaxers.  Relaxers have chemicals in them that can be dangerous if you don't know what you're doing.  You could suffer from skin burns and hair loss if you aren't trained in how to apply this process.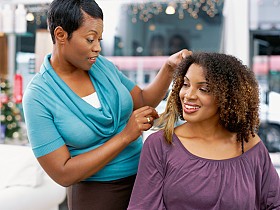 These types service should be left to the professionals.  They have been properly trained and have taken courses to perfect their skills and can perform these services without damaging the clients hair.  When performed incorrectly, hair coloring, bonded extensions and relaxers can cause permanent hair loss or even damage that can lead to the scarring of the scalp. As you can see, it's just not worth the risk.
Don't get me wrong, I'm all for saving a dollar where you can, but you don't want to risk it at the expense of damaging your hair. So what can you do if your funds are tight but you need one of the services above? Here are a few ideas:
Ask your stylist about monthly specials. Many professional stylists offer monthly specials that allow you to visit them more frequently, at a discounted rate.  Some stylists don't advertise this, but if you are a regular customer they may offer this option if you ask.
Ask your stylist about referral programs. A referral program is where a client would refer new clients and receive a percentage off of services or even perhaps a free hairstyle in some cases.
Ask your stylist if they have prepaid services.  This is a trend in "hair savings."   Yes, you heard it right!!  You can pre pay for hair services and then the salon/stylist would keep track of your balance and notify you when your balance is low. Sometimes the stylist will offer a discount for prepaid services, since you're paying up front.  This is also great if your income isn't consistent, but you want to make your hair a priority.
So ladies, the next time you hear of a new method of doing your hair, be careful.  Do your research and understand the risks involved.  Everything that looks easy is not always that simple as it looks.   Protect your hair and your mental well being and understand your limits.  Don't go too far when it comes to D.I.Y hair.
Written By: Voldasta, GA Licensed Hairstylist, @aiashaseiko
The following two tabs change content below.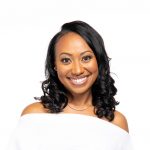 Brandelyn Green is the Founder of VoiceOfHair, a platform to help women of color find the best hair care products, regimens and hairstyles! Since starting VoiceOfHair in 2014 she has grown the social media platform to over 1MM+ on Instagram and Facebook. As a natural who is also a salon goer, she wanted to create a platform where people could find the best products, hairstylists, advice and trends.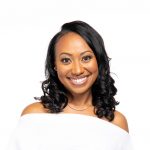 Latest posts by Brandelyn Green (see all)
Facebook Comments