Are you expecting a baby or do you know someone who is?  Well I am and it feels like I know at least 20  other people who are also expecting a baby!  One thing that pregnancy has taught me is that you can't always predict how you will feel or how you will spend your time.  This changes even more once your baby is actually born.
Knowing this, I reached out to Krystal Ben,
(@taylorsmom_krissy)
, a hairstylist in Biloxi, MS who is expecting her second baby in a few weeks.  As a soon to be mother of two girls and professional hairstylist for over 10 years, she has insight as to what pregnancy does to your hair and things you can do to make your life easier during this amazing time.
Below is what Krystal shared with us.
---
One of benefits of being pregnant is that most women notice their hair appears fuller during this time.  Does your hair feel thicker, and look more shiny and healthy than usual? It's probably growing faster too — probably before you can even book an appointment with your stylist!  It kind of makes you want to audition for a hair commercial, doesn't it 🙂 You may also notice that your hair is changing in texture (straight hair might become curly, and vice-versa).
Why Does This Happen?
 In particular, the hormone estrogen can be thanked for the changes in your nail and hair growth during pregnancy.  The increased estrogen  makes your hair grow continuously, while shedding and hair loss is decreased. In addition,  your pumped-up metabolism deserves some thanks because it is bringing more nutrients to your hair and nails.
What Should You Do With Your Hair?
One of the most commonly asked question is, "what are great protective styles to  during pregnancy?"  This is key because when you're in your first trimester and struggling through morning sickness or when you finally get to the third trimester you may be too tired to deal with your hair on a daily basis!
With my experience being in the hair industry for 10 years one of the main things I tell expecting moms to stay away from too much heat when choosing a style.  Braids , sew-ins ,and even custom units (wigs) are all great solutions to protect your hair during this time. After all, who wants to deal with hair when sleep becomes your best friend! Right?!
What About Breakage and Hair Loss During Pregnancy?
On the flip side some women experience a lot of breakage and even bald spots. The best thing to do is to keep your hair moisturized.  Meaning, stay away from products that have a lot of alcohol. Also stay away from overexposure to heat as  it will make matters worst and cause your hair to become more brittle. Doing a deep conditioners every 2 weeks can certainly help.  However, keep in mind it's just hair and it can grow back so don't stress too much.  For extra dry hair using a hair oil serum  can help with moisture, luster, and conditioning without weighing your hair down. The serum oil will deposit the oil without that heavy- greasy feel to it.
Also remember water is your best bud during this time. It also plays a big role in your skin, nails and hair health. Also, remember to take your vitamins to give you that extra boost. Lastly, remember that you should be drinking at LEAST 8- 10 glasses of water per day when you're expecting.  This will also have a positive effect on your hair.
Meanwhile you have something so precious growing inside of you, so it will be all worth it in the end!
The following two tabs change content below.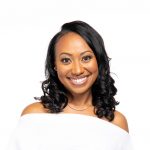 Brandelyn Green is the Founder of VoiceOfHair, a platform to help women of color find the best hair care products, regimens and hairstyles! Since starting VoiceOfHair in 2014 she has grown the social media platform to over 1MM+ on Instagram and Facebook. As a natural who is also a salon goer, she wanted to create a platform where people could find the best products, hairstylists, advice and trends.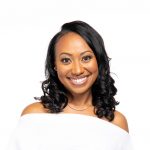 Latest posts by Brandelyn Green (see all)
Facebook Comments