Have you ever wanted to achieve a blowout but were afraid to use heat on your hair? Well in this
tutorial 
I demonstrate how to achieve a heatless blowout! In the video, I give two options that fit all budgets. The first option is to use a handheld steamer called a
Q-Redew
. The second, is to use a mixture of distilled water and lavender essential oil.
Watch the video to see how I got this awesome heat free blowout!
Here are the steps used to achieve this look:
1. Starting on clean, freshly washed hair. Use a lightweight, creamy leave in conditioner to saturate all hair strands. (My favorite for this is
Giovanni Direct Leave In
).
3. Use an oil to seal in that moisture. (I like to use jojoba oil,
grapeseed oil
or a very light whipped shea butter).
4. Put your hair in a few loose braids and let air dry over night or for a few hours –if your hair can dry in that time.
**In this step it is important that your braid is loose because that allows air in and encourages it to dry faster. You cannot have damp hair to achieve a heatless blowout, so you want to make sure your hair dries in time.
5. Once dry, take down all braids.
6b. (If you do not have a
Q-Redew
) –spray a VERY SMALL amount of distilled water mixed with lavender essential oil [about 5 sprays]. This mixture puts a little moisture into the hair without weighing it down, so that you are not combing dry hair.
7. Use a wide tooth comb and paddle brush to comb through hair –I typically do this in sections. This smooths the hair cuticle and creates the big hair blowout look.
This is how I begin majority of my styles, as I don't like to do wet sets too much. A heatless blow out allows me to retain more moisture and length retention in my styles. Which for me, gives me the best results! Have you tried this technique? How did it work for you? Comment below!
The following two tabs change content below.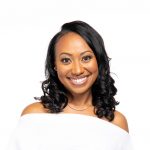 Brandelyn Green is the Founder of VoiceOfHair, a platform to help women of color find the best hair care products, regimens and hairstyles! Since starting VoiceOfHair in 2014 she has grown the social media platform to over 1MM+ on Instagram and Facebook. As a natural who is also a salon goer, she wanted to create a platform where people could find the best products, hairstylists, advice and trends.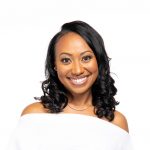 Latest posts by Brandelyn Green (see all)
Facebook Comments