Who doesn't love BIG, sexy hair? I know I do! I recently came across some of the work of Bowie, MD hairstylist, Glenn Nelson and fell in love with.  We asked him a few questions about recent photo-shoots with photographer  Domo Jenkins and makeup artist Lauren Nicely and Arica Peni.  Glenn shared a little about his philosophy and his styling techniques for his recent natural hair photo shoots.
Hair : @glenn_hairartist87 Mua/model : @zaviamonet Photographer: @domoshotme
VoiceOfHair: Can you tell us a little about yourself and your specializations?
Glenn: My name is Glenn Nelson, I have been licensed for 8 years now, originally I'm from Virginia beach but currently reside in Bowie, Maryland. I don't really like to say I "specialize" in anything for I feel it puts you in a box, but I do a lot of color, weaves, and maintaining healthy hair. I do consider myself to be a multicultural stylist for I have worked in  ethnic and Caucasian salons.
VoiceOfHair: We know that you're a proponent of healthy hair. What's your hair philosophy?
Glenn: My philosophy on hair would be "healthy hair over everything" and I stick by that 100%, even if it means having to refuse a service and/or client. I see of a lot of clients willing to compromise the integrity of their hair just to achieve a particular look, and I just cant wrap my hear around that way of thinking. I tell my clients that healthy hair is 60% what I do in the salon and 40% what you do at home, so that means if I recommend not to "touch up" your hair at home with the flat iron, you have to stick to that. Or if I say that your hair is not strong enough to withstand the color process, then understand certain things take time. If you don't remember anything else, just remember that treatment and trims are essential to healthy hair.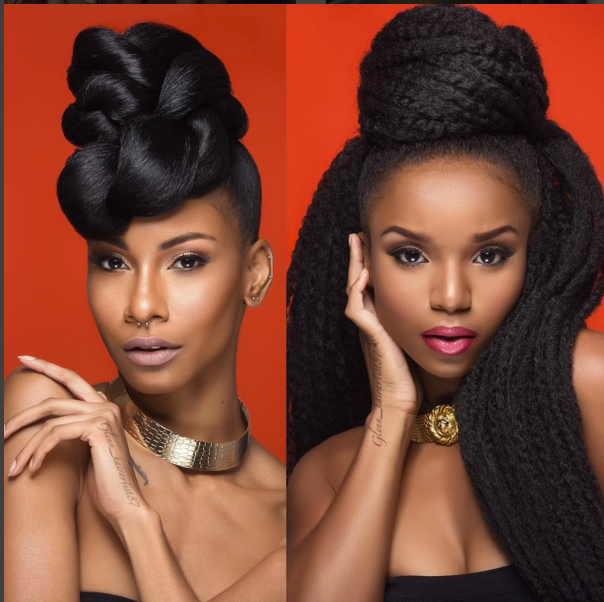 Hair: @glenn_hairartist87; Photo:@domoshotme; MUA: @already_perfect; Models: @imani.joi and @drizzythekitty
VoiceOfHair: In one of your recent photo shoots you created several natural hair styles looks that our audience loved.  Can you tell us what was the inspiration behind that shoot?
Glenn: Well I have always been a fan of big fun hair and I love texture, so I wanted to do something different that's not really circulating too much right now. Natural hairstyles have become  popular, and I just wanted to add a twist to it. For that particular photo shoot, I knew I wanted to do something with texture, so I walked around a few [beauty] supply stores,  just to looked at the different types of hair until I saw things that spoke to me. Once on set, is when I start to really process and put things together.
VoiceOfHair: In your caption it said that you created some of the hairstyles using crochet hair.  Can you tell us how you did that?
Glenn: That particular wig is actually one of my favorites. I created that wig while the model was getting her makeup done. Normally I would never show up to a shoot without the hair already prepared but this was a spur of the moment idea.. I used a weaving net that I had formed into a cap using a manikin head, I use 5 packs of Cuban twist hair, and I just crocheted it to the cap.  I did not brush or pluck the strands out for I like the tear drop effect the ends gave, but I did use all 5 packs to give a more exaggerated look.
VoiceOfHair: You  often post pictures from your clients and also from various photo shoots.  How did you get into styling hair for photo shoots? What advice would you give to other stylists looking to follow in your footsteps?
Glenn: I knew early on into my career that I didn't want to just be behind the chair. I got into doing photo shoots after networking with a local makeup artist. We worked together and set up a shoot with a local photographer, and since we worked so well together the 3 of us began to piggy back ideas off each other to build our portfolio's. So any stylist/artist looking to venture out in to something other than behind the chair, networking is the key. You never know who someone else knows, and in this industry you will learn that its truly all about "who you know." So link up with like minded individuals and work towards a common goal. Make sure they want to see you succeed just as much as you want success for them. Don't be afraid to stand out, and don't worry if anyone will understand your vision.
Awesome advice from Glenn on how to stand out.  You can check out more of Glenn's work on Instagram and contact him for appointments if you're in the Bowie, MD area!
The following two tabs change content below.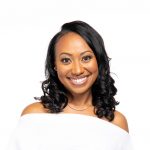 Brandelyn Green is the Founder of VoiceOfHair, a platform to help women of color find the best hair care products, regimens and hairstyles! Since starting VoiceOfHair in 2014 she has grown the social media platform to over 1MM+ on Instagram and Facebook. As a natural who is also a salon goer, she wanted to create a platform where people could find the best products, hairstylists, advice and trends.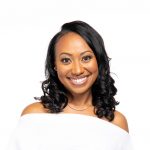 Latest posts by Brandelyn Green (see all)
Facebook Comments