When it comes to styling our natural hair, it's so fun to experience the versatility of our kinks. We literally have the option to mold and style our hair anyway we please. But with that versatility comes a lot of time and effort put into creating those styles. Sometimes it's nice to install a "protective style" of some sort, and just let our hair be.  Today, I'll be spilling the tea on the popular spring twists protective style and why I love it!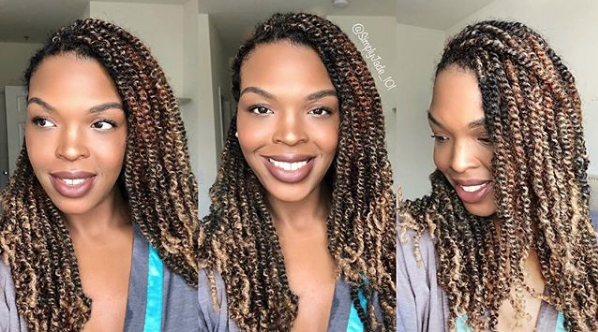 Spring Twists
There are some popular hair
protective styles that you can wear in the summer
. But nowadays, there's one particular protective style that is all the rave. It goes by many different names including, but not limited to: spring twists, mini twists, fluffy twists, natural twists, bomb twists, etc. I KNOW you've had to notice these beautiful twists floating around Instagram and Pinterest, with women rocking them in all lengths and colors. I know I've noticed! And I couldn't wait to try them out for myself.
How Much Does it Cost?
Unfortunately, I was not willing to go to a stylist and pay $300-$500 to get it installed. I'm more of a DIY type and love experimenting with new styles on my own. So I finally tracked down the type of hair that stylists use (even though for some reason a lot of them like to keep it a secret)….and I got to work!
Is it Heavy?
This hair is unlike any extension style I've ever tried. It's easy to put in, comes in a variety of colors, is versatile and most importantly, is extremely LIGHTWEIGHT! I used these twists as my protective style towards the end of my pregnancy and those first few weeks with a newborn, and I loved it! No extra tension on my scalp, no itchiness, and no headaches. Not to mention it did not cost a couple hundred dollars. It really is a dream style for me.
How To Maintain It?
One of the best things about this style is that it's low maintenance.  At night you put on a bonnet, maybe tie a satin scarf around your edges and go to sleep!  If your scalp is itchy you can use an oil, like the VoiceOfHair PureFix Hair Elixir and rub it through your scalp. That oil tingles and helps stop the itching, while promoting growth and nourishing your scalp.
What's My honest opinion of this style?  Where Can I Purchase the Hair?
I created a review/demo video about the pros and cons of the hair —though I was not able to pinpoint any negative aspects, I seriously just love this hair.
I would encourage you to
watch the video
to learn about why this should be your next protective style. And if you're already sold on it and just want to move forward with purchasing, then you can get it on Amazon right
here
. And in 2 days, they will ship it to you if you're a prime member. Talk about a win!
I thoroughly enjoyed rocking these spring twists and I know you will too. If you do end up installing it, make sure you tag
@voiceofhair
and
@simplyjade_101
to show us your beautiful work.
The following two tabs change content below.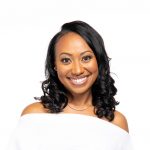 Brandelyn Green is the Founder of VoiceOfHair, a platform to help women of color find the best hair care products, regimens and hairstyles! Since starting VoiceOfHair in 2014 she has grown the social media platform to over 1MM+ on Instagram and Facebook. As a natural who is also a salon goer, she wanted to create a platform where people could find the best products, hairstylists, advice and trends.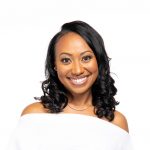 Latest posts by Brandelyn Green (see all)
Facebook Comments