Summer is upon us and for many of us, this is the time to give our hair a break from heat and manipulation.   If you're working to retain your length one of the biggest things you can do for your hair is to wear protective styles. If you are someone who frequently wears protective styles, we recommend that you try the PureFix Hair Elixir which is a great scalp moisturizer (while promoting growth). It has a cooling sensation once you rub it in and it's perfect for protective styles.
In this article, we're going to show you 10 braided protective styles to wear this summer so you can reach your hair goals.
1. Low Braided Bun
This protective style requires NO manipulation  once styled and keeps hair off your back. Wearing a heat-free protective style like a braided bun over the summer will save you so much time getting ready and keep the stress off of your hair. Since this is such a long-lasting style, you won't have to think about doing another hairstyle for at least three to four weeks .
2. Box Braids
A great way to have some style diversity without having to manipulate your hair every day.   Box braids are a versatile, worry-free hairstyle that is perfect for warm weather.  Box braids  are also a protective style and are conducive to athletic activities—from swimming to exercising and everything in between.  However, one thing to note is that the smaller the braids, the longer they will last- so keep that in mind when selecting your style.
3. Crochet Braids with a Pop of Color
If you like braids but want a more natural look this is the way to go! This style only takes about 2-3 hours to install and is as versatile as a sew in.  One of my favorite things about this style is that the installation is much faster than intricate hairstyles such as kinky twists or box braids. Also, since all of your natural hair will be braided down, it's a true protective style.  You can  add a pop of color to make the look even more sophisticated or try a different curl pattern for a fun look.
4. High Braided Bun
This is a classic, beautiful and low maintenance protective style. The only thing you have to do to maintain this head-turning look is oil your scalp and wrap your hair with a satin scarf at night. This style is perfect for vacations and traveling to warm climates.
5. Feed-In Braids
A popular style that is perfect for you and your daughter! Feed in braids are definitely one of the most popular protective styles because it looks great at any age group. This technique is a healthier braid option because it allows the hair to grow out naturally, without the stress, tension on your delicate edges (compared to a braided bun or ponytail).
6. Faux Locs
Toss your hair in a bun with this protective style and add some color to stand out. While this is very popular  look it can be time consuming.  To shave off a few hours try the crochet faux version of this style if you are short on time or patience.
7. Cornrows with hair jewels
This is the perfect style for kids, especially if you don't want to add extensions! Cornrows are the perfect summer hairstyle that will last up to 1 month.  There are so many different cornrow styles to choose from and this is a way to show off your child's personality.  Adding jewels to your hair is always an option that can add a little more flavor to this style.
8. Braided Bob
These styles are so cute and they aren't too heavy since they are cut short.  Braids don't always have to be long to make a statement.  This is a perfect style to beat the heat and take the much needed stress off of your hair.
9. Undercut styles
Not quite ready to commit to fully chopping your hair for summer? This hairstyle gives you the liberty to rock the summer while keeping the hair on your neck on a bare minimum.
10. French Braids with Curls
This style is trending and is perfect for all ages.  A simple French braid might not sound all too exciting, but adding curls to this style will make this style feel new and totally romantic.

The following two tabs change content below.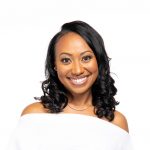 Brandelyn Green is the Founder of VoiceOfHair, a platform to help women of color find the best hair care products, regimens and hairstyles! Since starting VoiceOfHair in 2014 she has grown the social media platform to over 1MM+ on Instagram and Facebook. As a natural who is also a salon goer, she wanted to create a platform where people could find the best products, hairstylists, advice and trends.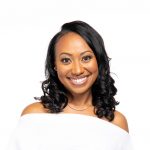 Latest posts by Brandelyn Green (see all)
Facebook Comments