In an exclusive interview, Voice of Hair Ambassador, @LauransLane met with Bambi of Love & Hip Hop Atlanta to discuss her journey into the entertainment industry and  her new business endeavor, Shimmer Elite Hair Extensions and what we can expect from the Love & Hip Hop Atlanta Season 4 Reunion Show (Part 2).
LL: Hello World, this is @lauranslane, Ambassador for Voice Of Hair, and it is my absolute pleasure to interview the CEO of Shimmer Elite Extensions, the pioneer of the "Lip Stick Gang", but you affectionately know her as Bambi, or "The Bam" from Love & Hip Hop! So how are you feeling today, Bambi?
Bambi: I'm good, I'm great; nice little spill! (laughter)
LL: (laughter) well thank you! I really appreciate that! Ok we really want to know…how did you get the nickname Bambi?
Bambi: Well it was a nickname that came from my family andfriends when I was younger, you know, because I'm so long and I was really skinny, and I just reminded them of Bambi.
LL: Aw that's sweet! Ok so tell us about "Little Bambi"…how were you as a child? Were you always the matter-of-fact Bambi that we have come to know and love?
Bambi: Well it's crazy because I've always been pretty much the same which you guys only get to see one side of me for the most part, but I've always been pretty well rounded in terms of being able to relate to a lot of different people, a lot of different situations, and I've always been that person who just could never, ever stand for anybody being bullied. So if you ever see me, you know, "turning up" on somebody it's because I'm passionate about being compassionate! So I'm always taking up for somebody else.
LL: Oh ok! Now, so let's fast-forward to high school aged Bambi; what kinds of things were you interested in, and what types of activities were you involved in around that time of your life?
Bambi: I was really active; I had a cousin who was a star athlete in high school, so when I first got to high school I was kinda like "oh I'm just gonna chill and do whatever I want", so he kinda like forced me to get on the basketball team—
LL: Ok!
Bambi: –he was just like you're too tall to just be runnin' around and doing nothing (LL & Bambi laugh), so I played basketball and had a really active coach, who made us do every other sport. So I played basketball, volleyball, ran track…so I was pretty athletic in high school
LL: Nice! Ok! And I wanted to let you know that I absolutely love that you have degrees in both Broadcasting and Journalism, but I need to know how did you end up in acting, modeling, and the music scene? How did you even branch out or break off into that?
Bambi: Well actually the last degree I got was in Public Relations, so I had to pick up a minor really quick, and you know me, I was just trying to hurry up and get up out of the school, so I was like well let me pick up theater as a minor…that should be fun and quick. So I was taking all of these classes like directing, stage management…then they were like well you need to take an acting class. So at that point, me taking that acting class was one of the most intimidating things that I've ever done in life—
LL: Really?
Bambi: Yes it was. I was nervous everyday that I went to class but I knew I had to do it to graduate, and one of my professors thought that I had a lot of potential; so he was acting on a TV show at the time, and would let me know about casting calls, and different things, so I just started to go to auditions. I've done a couple of films, I've done a few feature background roles, so that's kinda just how that happened.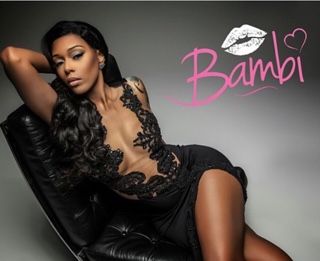 LL: Ok well that's pretty cool how some things just take flight, and you're not paying that much attention to it, but it just happens like that. That is pretty cool.
Bambi: Right.
LL: So tell us about your hair company and how you came into this venture.
Bambi: Well the Shimmer Elite Extensions is definitely my new "baby". For the longest I've been into hair; like I would always do my own hair, install my own weaves…it's just something that really came natural to me, just being around family and friends who do hair. But I was always really particular about the hair I put in MY hair because my own hair is decent, it's nice…so if I'm going to wear some extensions, they're going to have to be on point. So, over the years, I've just been a consumer of hair; I'll buy hair from all types of different companies, and would just test them out to see which ones were the best ones, and since my hair always looks nice, my family and friends would always ask me where I'm getting my hair from. I'm always telling them "well use this company/don't use this company", and for the longest I was doing that…so then I decided to offer that to the people who really admire my hair, you know?
LL: Yes
Bambi: So if you ask me where I'm getting my hair from, I can give it to you. I wanted to make that available. And I know how much we LOVE OUR HAIR!
LL: LOVE, yes, you are absolutely right! So now how did you come up with the name Shimmer Elite for your extensions company?
Bambi: Well I branded the whole "shimmer movement", from when I had this movement "Lipstick Gang", where we would always say shimmer everything; I don't call it swag, I call it "shimmer", so everything just became shimmer, shimmer, and that's what people know me by…the shimmer. So, you know, I just have this whole "Shimmer-prise"—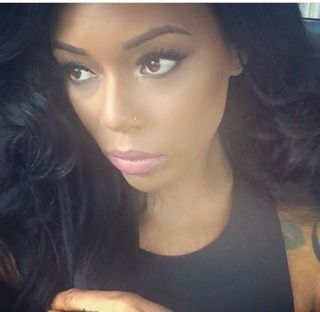 LL: Oh ok, I love that!
Bambi: –I have the Shimmer Shoetique and the Shimmer Life Clothing Boutique, so the hair obviously had to shimmer, too.
LL: Right! So you aren't an actual hairstylist yourself, you just have the hair company?
Bambi: Now, I'm a "kitchen beautician", and I can do some thangs (LL & Bambi laugh); you know, if we are going out, of course people will slide through and ask me to throw some curls in, but by trade? No, I'm not a hair stylist, but I do know great hair.
LL: Ok, yes you do, we see it every week because we watch the show!
Bambi: Thank you!
LL: So let's switch things up a bit and get to know the fun side of Bambi! What's one of your absolute favorite cities to visit, and what is a must-have food dish when you arrive in that city?
Bambi: Well my favorite city to visit is Miami. I just love the ocean, being outside, my hair blowing in the wind…but I have to say that the dining experience for me is…well I don't go there for the food, I go there for the beach and the drinks, but my must-have from wherever I go is Mexican food, so I love hitting up all the Mexican spots home in LA!
LL: Ok! Now your love interest Lil Scrappy…how is he doing these days? We love to see you guys, so how is he? Is he doing ok?
Bambi: He's doing great! That's why I was a few minutes late for my interview with you! (LL & Bambi laugh) I had his daughter at my house with me this morning; she loves to come to my house to chill out, so I just brought her to her dad right now. So he's happy; he's happy that the baby is back in his life and everything is good with him!
LL: Ok well that's good! Well please make sure you tell him hello from Lauran.
Bambi: I will!
LL: Thank you! Well tell us about any other businesses that you have going on so that we can support them, where we can find them, the names of the companies, etc.
Bambi: Well I have my mobile app, it's called "The Bam", and you can download it. It's a free app, and you can download it on the droid or iPhone, and if you have the app, you have access to everything I have going on…the parties I have coming up, what cities I'm going to be in, direct links to my website for the hair, the clothing, the shoes, so everything is right there in the app.
LL: That's absolutely smart, so I'm going to download the app as soon as we hang up.
Bambi: Thank You! And it will re-launch next week actually; it will be all updated and revamped, so but it's still available to download right now.
LL: What is your favorite color or color combination to wear?
Bambi: I love wearing white. It's my favorite; it's kinda lazy, but I look nice in white, it's very clean, I just love wearing white.
LL: Ok! And what is the one shoe that you cannot live life without? Like, the must have shoe, it does not matter what you have going on, you HAVE to have this shoe.
Bambi: It's crazy, because I'm actually wearing them right now! (LL & Bambi laugh) these Chanel sandals; the gold looks really distressed, and I think it's the way that it's supposed to look, but it's just these random gold sandals—that are T-straps—and I know that everybody in my life is so tired of these lil sandals, but I just throw them on everyday, I throw them in my bag…I love these sandals.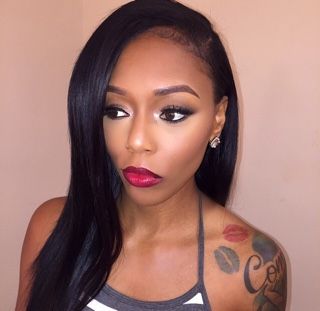 LL: Ok! So what is something that you want people to know about you, separate from LHHATL? What is one big thing that you would love for someone to realize about The Bam?
Bambi: I always want people to know that I am very well educated, and I know it doesn't look like it but I'm super chill, and a homebody and I love to just do family stuff. I love being at home cooking, and watching TV, and I know people think that I am always out, but I have to go out and pick up those lil checks, you know, but I would much rather being in the house chillin' w my people.
LL: Ok that's cool! So basically when we download the app, we have a direct connect to your social media; I just want to make sure that I have that correctly.
Bambi: Yes, but for those people who may not be able to download the app because they don't have enough space on their phones, my IG is @adizthebam, and then you'll be able to connect with all of my other businesses through IG.
LL: Ok cool! So now, final question would be what should we expect from you on the reunion show, part two?
Bambi: Well it's crazy because I don't really know what they keep and what they show, but I do remember that there was another heated moment. They showed a little sneak peak of Erica coming for Scrapp, and just me defending him…and I know a lot of people may think that I am out of line, but this is the man that I've been with for the last two years so I know the "ins and outs" of everything that's going on throughout this whole child support thing, so I REALLY get it. And I'm not that woman who will just side with him just because I'm with him. I really see that he is really trying to be a better person, and a really good dad, that's why I'm so passionate about sticking up for him because I know that's the one area of his life that he really takes pride in…and that's being a dad.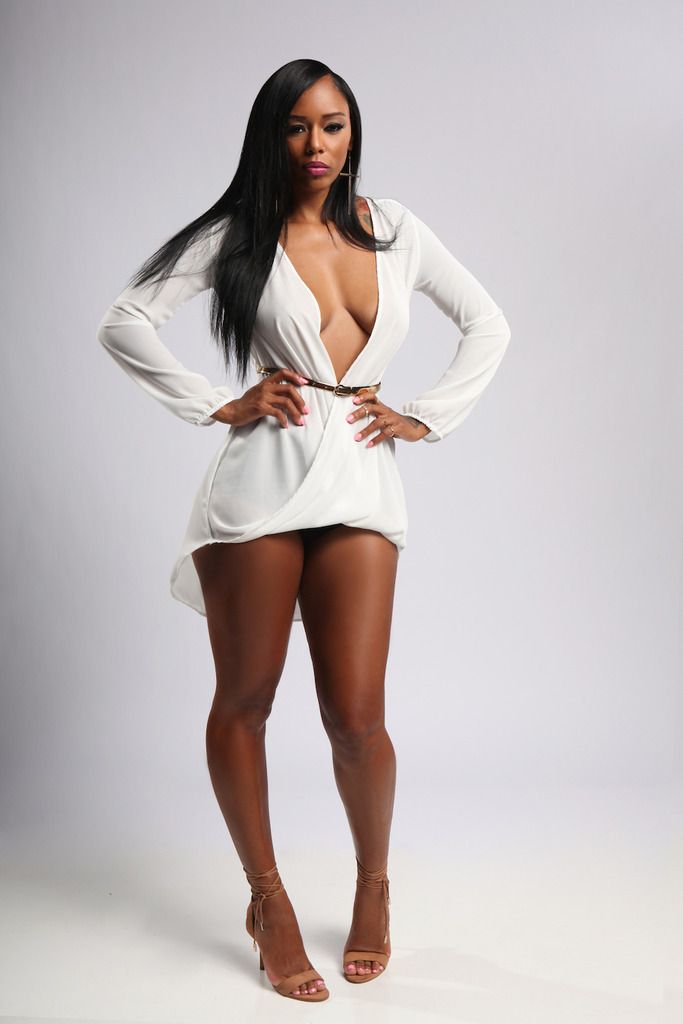 LL: Well Bambi, I really, really appreciate the time that you took to talk to me today, and I cannot wait to see the show and to download the app. So I truly appreciate you for who you are. Keep it up! I'm following you!
Bambi: Thank you, I really appreciate it!
The following two tabs change content below.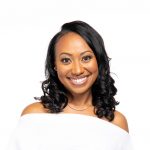 Brandelyn Green is the Founder of VoiceOfHair, a platform to help women of color find the best hair care products, regimens and hairstyles! Since starting VoiceOfHair in 2014 she has grown the social media platform to over 1MM+ on Instagram and Facebook. As a natural who is also a salon goer, she wanted to create a platform where people could find the best products, hairstylists, advice and trends.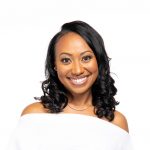 Latest posts by Brandelyn Green (see all)
Facebook Comments