As the trend of Black women "returning to natural" continues to grow, I see more and more women doing something that I think can be a detriment to their hair. Many of these women, rightfully so, feel a sense of freedom in being able to rock  their natural curls and not being forced to make those (sometimes lengthy) salon visits.  YouTube has given so many of us confidence that we can do just about any style on our hair.  Along with "going natural," a lot of us are becoming more educated about the products that we put on our hair and bodies; therefore, many of us only allow ingredients on our hair that natural or organic.  I'll be the first to admit that all of the benefits of the natural hair movement are phenomenal and make me extremely proud to be part of it, however, there is still something that concerns me deeply. The biggest problem I see is that some "naturals" are making a vow to never, ever enter a hair salon or to see a professional hairstylist again.
You may be wondering, "why is that a problem?" Or, you may be one of those women that I just described.  Here are just a few reasons why naturals still need a hairstylist:
If you're not getting your hair done professionally, chances are you are not keeping your ends trimmed. Note: There are a few people who do maintain their ends and cut them on their own, but that is not the norm.  Keeping your ends trimmed is a HUGE part of having healthy hair!
You cannot see all angles of your head so if damage (heat damage or breakage) has occurred, you may not notice it and therefore cannot correct it.
You may not be deep conditioning your hair on the regular, causing your hair to be more fragile.  When you see a hairstylist they will often tell you if you need a deep conditioner or not— and will apply it when needed.  If you're managing your own hair then you may neglect this step if you're not conscious of the importance of it.
You may not be using the correct products (that are not pH balanced) on your hair and could be contributing to brittle, dry or breaking hair unknowingly. Curly Nikki posted a great article about the importance of pH balance.  This is something that a professional hairstylist can also help you with.  The best hairstylists are trained to deal with this issue and they use products that are pH balanced for your hair.
Your styling techniques may be contributing to traction alopecia —little by little damaging your hair permanently. Even though your hair looks good (and your edges are ON FLEEK), your techniques may be incorrect.  Also, if you're re-installing hair extensions or protective styles immediately after taking them down then you may also be damaging your hair.  Talk to a professional about styling options that you can wear "in-between" protective styling so you can give your hair a break.
You may not be able to achieve the desired look on your own.  This is completely understandable, especially if you're not a licensed cosmetologist.  However, it's important to know when to ask for help and let a professional do the work.
You may be thinking, "Yea whatever, you're just trying to keep the hairstylists in business!" Trust me, as much as I love my stylist, that is not the case.   Unlike many of my peers, I am not "going natural." I am already "natural" and have been "natural" my whole life.  As a caveat, my definition of  "natural hair" is hair that is not chemically processed (chemically relaxed or texturized).  When I was younger, my mother took my two younger sisters and I to the hair salon  every two-three weeks to get our hair professionally cared for.  I grew up not knowing how to do my own hair and was forced to figure it out when I got to college.
In college, I didn't have a lot of time (or money) to get my hair done so I tried to maintain it on my own, only going to the salon on rare occasions.  After a while I noticed my hair was breaking off badly and I had a lot of heat damage (from flat ironing and blow drying).  I ended up going to my stylist and getting a big cut (not a big chop, but mentally, it felt like it).
In due time my hair returned to it's healthy state and I was finally able to maintain length. Since then I made a vow that I wouldn't try to manage my hair on my own. I now make sure to see my stylist at least every other month to get a deep conditioning (in addition to doing my own) and to keep my ends trimmed.  This is also the reason why I started VoiceOfHair™! I want to help people find the styles they love and people who can style them.
While all of the issues that I had may not be your own, I do think it's important to see a professional hairstylist (at least quarterly) so that you can maintain your healthy hair journey.  Do you agree with me on this topic? Why or why not don't you think it's important to see a professional hairstylist?  Comment below!
Brandy Green
Founder, VoiceOfHair.com
The following two tabs change content below.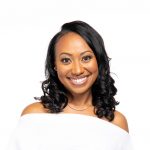 Brandelyn Green is the Founder of VoiceOfHair, a platform to help women of color find the best hair care products, regimens and hairstyles! Since starting VoiceOfHair in 2014 she has grown the social media platform to over 1MM+ on Instagram and Facebook. As a natural who is also a salon goer, she wanted to create a platform where people could find the best products, hairstylists, advice and trends.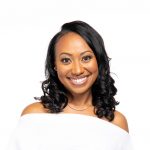 Latest posts by Brandelyn Green (see all)
Facebook Comments