Short hair styles are amazing. Wearing a short hair style has many benefits such as it can look gorgeous, classy, and be very comfortable. In addition, another great benefit to wearing a short hair style is that it can put you on a great trajectory to grow your hair out. Whether you have a pixie cut or teenie weenie afro (TWA), I want to share with you 6 beautiful short styles for growing your hair out. The good thing about short hair styles is that you can wear them anytime whether it is winter, spring, summer or fall. Also, I'll share the products you can use to achieve these amazing styles. 
#1
Dry waves take some skill but it's perfect for someone who is in that in between stage.  Chicago Stylist @Oluchizelda shows how beautiful and classy this style can be.
#2
This cut is perfect for growing out a pixie or if you're looking to keep a side shaved. Styled by New York Stylist @swesthair.
#3
This cut is still short but if you want to grow out your bangs it's another great alternative. This look is styled by Los Angeles stylist @madaboutmeechie.
#4
This cut is one of our favorites because it's still short but it allows you to grow out the top and the back of your hair. Plus, who doesn't love a super chic mohawk. This style was done by Chicago, IL stylist @oluchizelda.
#5
While some would consider this a pixie cut, it's actually a lot longer and is more of a mid-length cut. Moreover, this cut is great for someone who wants to maintain this length without needing a relaxer. In addition, this style was done by Baltimore stylist @britanyrese.
#6
This style is sexy and chic and features longer hair in the front. However, since the hair is not shaved, but just tapered in the back it is a great option for growing out a pixie cut. This cut was styled by Atlanta Stylist @rozie_katore.
Next time you oil your short hair style be sure to use an all-natural that has ingredients that help to moisturize your scalp like the VoiceOfHair PureFix Elixir and the Quench HairCare Collection.
I originally published this article on December 14, 2016 and updated it on January 19, 2021.
The following two tabs change content below.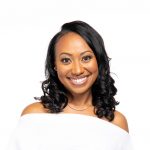 Brandelyn Green is the Founder of VoiceOfHair, a platform to help women of color find the best hair care products, regimens and hairstyles! Since starting VoiceOfHair in 2014 she has grown the social media platform to over 1MM+ on Instagram and Facebook. As a natural who is also a salon goer, she wanted to create a platform where people could find the best products, hairstylists, advice and trends.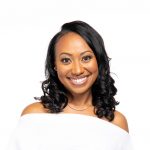 Latest posts by Brandelyn Green (see all)
Facebook Comments