If you're anything like me–and many other women that I've spoken to–then you've experienced thinning edges at some point in your life. There can be many reasons which contribute to thinning hair, such as: wearing specific hair styles, postpartum hair loss, age, diseases, hormonal changes, trauma, and stress, to name a few reasons. While there are no quick-fixes to thinning edges, there are some things that you can do. But, like any other elements of your healthy hair journey, patience and consistency are essential to regrow your hair. So, if you're suffering from thinning edges, then this article is for you. Here are 5 things you can do about your thinning edges right now.
1. LIMIT TIGHT BRAIDS
Your edges can start to thin as a result of hair styles that pull your hair too much. One of the biggest culprits to thinning edges can be braids that are are too tight. One way to know if you're braids are too tight is if you start to experience sore bumps, scarring, or headaches. The hair around your edges are extremely fragile and should be treated with extra attention and care. Some braid styles are not beneficial to the health of your edges, especially if you are already dealing with extremely dry hair, thinning or balding of any sort, scalp conditions (e.g. seborrheic dermatitis, scalp psoriasis, etc.). We know that there are so many popular braid styles that you would love to try but trust me, it's not worth compromising the health of your hair. Find looser braid styles such as knotless braids will help to keep the tension away from your edges.
2. AVOID SLICKED BACK STYLES
Ponytails are a go-to style for many Black women. However, they can often do more harm than good if you wear them consistently. Too much manipulation and brushing your edges into place can cause issues that may become permanent. It's a good idea to let your hair breathe for a day or two in between ponytail styles, so that your edges aren't stressed so much that they begin to thin out. If you are Keep your styles as loose as you can to give the scalp a rest and nurse itself back to health.
3. DEVELOP A HEALTHY DIET
A healthy diet can help your hair stay healthy and grow. Take a look at your diet and make sure you're eating lots of fruits and veggies to help promote healthy growth. A diet rich in essential fatty acids, vitamins B6 and B12 are important for producing red blood cells that assist in hair growth. There are 11 superfoods that can help you with growing stronger and longer hair. Drinking lots of water is also extremely important to feed those follicles from within. And, believe it or not, exercising will help to build your metabolism and get that blood flowing to help your hair thrive.
4. USE GROWTH STIMULATING OILS
Using oils that are known to stimulate the scalp can help promote hair growth.  You want to find a product that is light enough to use on fine hair and moisturizing enough for coily hair. The best stimulating oils use a blend of essential oils that encourage circulation, such as: black seed oil, tea tree, rosemary, peppermint oil and black castor oil.  You can apply a few drop of the oil to your hair line and gently massage the area.  However, keep in mind that our hair grows about 1/2″ per month so  growth oils need to be applied consistently over 30-60 days to give your hair a chance to grow back in.
5. MASSAGE YOUR SCALP REGULARLY
One of the best things about scalp massages is that they feel amazing! Beyond feeling good, research shows that four minutes of scalp massaging per day can increase activity among genes that simulate hair growth. This happens because scalp massages in the affected areas help stimulate blood flow to the follicles which can encourage hair to return to those edges. In addition, scalp massages can also help reduce stress. Nightly massages with your favorite growth oils will improve blood circulation and carry nutrients to those areas to promote growth.
As always, if you are experiencing drastic changes to your hair line be sure to check with your doctor to ensure that you don't have any major underlying conditions.
The Key Takeaways
Just in case you did not have time to read the above information, no worries, I get it, life can be busy. That is why I have included the key takeaways for you to read below at a quick glance. Here are 5 things you can do about your thinning edges.
1. Limit tight braids. 
2. Avoid slick backed styles. 
3. Develop a healthy diet. 
4. Use growth simulating oils. 
5. Massage your scalp regularly. 
This article was first published on June 13, 2020 and updated on May 14, 2021.
The following two tabs change content below.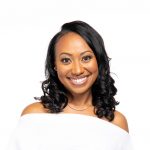 Brandelyn Green is the Founder of VoiceOfHair, a platform to help women of color find the best hair care products, regimens and hairstyles! Since starting VoiceOfHair in 2014 she has grown the social media platform to over 1MM+ on Instagram and Facebook. As a natural who is also a salon goer, she wanted to create a platform where people could find the best products, hairstylists, advice and trends.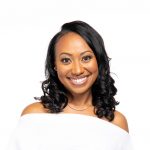 Latest posts by Brandelyn Green (see all)
Facebook Comments