There are times when I really am NOT in the mood to do my hair. I just want to wash it, condition it and go on about my business. In this tutorial I demonstrate a super easy, yet chic protective style: The CinnaBun, that can last as long as you want it to last!
The steps used to achieve this bun are:
Start on stretched hair (can be blow dried, air dried or a heatless blowout. Click here to see a tutorial of a heatless blowout
Use an edge control or gel to lay hair down
Brush hair up into high ponytail (I used a knee high stocking for this instead of a hair tie because it allows me to adjust the tightness of the ponytail)
Taking small sections of your hair, roll it as if you are doing a pin-curl. But instead of turning it on its side, leave it straight up.
5. pin down and continue on all sections
This style can last a week if you care for it properly at night. **Please see end of tutorial for nighttime routine. This is the perfect protective style for any season as well as any event. As it can be dressed up or dressed down. It also is great for any hair length. I've had several women tag me on Instagram (SimplyJade_101) to show me how they re-created the look and they all had different hair lengths!
Hope this helps you on your quest for a simple protective style.
CinnaBun tutorial: 
The following two tabs change content below.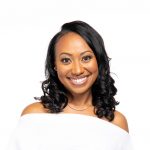 Brandelyn Green is the Founder of VoiceOfHair, a platform to help women of color find the best hair care products, regimens and hairstyles! Since starting VoiceOfHair in 2014 she has grown the social media platform to over 1MM+ on Instagram and Facebook. As a natural who is also a salon goer, she wanted to create a platform where people could find the best products, hairstylists, advice and trends.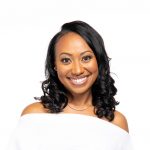 Latest posts by Brandelyn Green (see all)
Facebook Comments