Do you have plans for a hot date but you're not sure how to rock your natural?   One of my favorite hair tools to use in my haircare routine are perm rods. Perm rod sets are the type of style that gives me beautiful results every time I use them! Not to mention, they're super versatile. Depending on the size of the roller and the technique you use to roll your hair, you can create different types of curls. Whether you're looking for big fluffy elongated curls or super defined shrunken curls, there's something for everyone.
Whenever I want to do a quick style I reach for my perm rod updo. I like this style because I don't have to roll my whole head and these curls last so long! Nighttime maintenance is a breeze and it can be considered a protective style because your hair is pinned up and out the way.  Here's a brief tutorial on how to do an easy perm rod up-do for date night or any other occasion.
I also love that you can use whatever products you choose! Any type of holding creme, gel or mousse can work. This time I chose to use Lottabody Foam Wrap Mousse.
Here's the video on how to achieve a simple and easy per rod up do:
The steps I used to achieve this look are: 
1. Can be done on wet or dry hair. I started on a heatless blow out as I do for a lot of my styles. Click here for a heatless blowout tutorial (
https://youtu.be/0nItUsecdk0
)
2. Parted my hair horizontally (ear to ear)
3. Parted the back section in half vertically, rolled each side up and pinned in place
4. On the top section, take smaller sections, put mousse or holding product of choice and roll hair down perm rod
5. Let air dry or sit under hooded dryer
6. Remove rods and separate curls
This is a great style to rock  for a special occasion or if you're looking for something that is easy, but still cute! Try it out and let me know what you think!
The following two tabs change content below.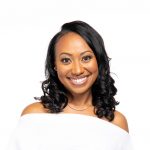 Brandelyn Green is the Founder of VoiceOfHair, a platform to help women of color find the best hair care products, regimens and hairstyles! Since starting VoiceOfHair in 2014 she has grown the social media platform to over 1MM+ on Instagram and Facebook. As a natural who is also a salon goer, she wanted to create a platform where people could find the best products, hairstylists, advice and trends.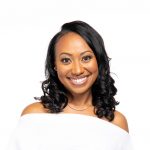 Latest posts by Brandelyn Green (see all)
Facebook Comments