Well it's summertime and according to my own personal social media research, there is no other time of year where you will see more blonde than in the summer.  With all of the sunshine that we've been missing all year, we need our hair to match, right?  Right!  However, blonde can come at a high cost.
Whether it's your natural hair or weave.  It can be damaging to your own hair and cost more than your usual hairstyles due to the upkeep and maintenance involved.  You have to find a color specialist, buy color treatment products, buy new makeup, and even be prepared to dye your hair multiple times to achieve the right color. Blonde is a color that includes variance in levels and the lighter the blonde, the harder to achieve.  This is also extremely time consuming!
If I could give any advice for someone wanting to go blonde, it would be to use weave AND buy it pre-colored.
Pre-colored weave comes at an additional cost as well, but worth every penny!  All of the issues named above are virtually avoided, except the additional cost.  The biggest benefit to purchasing pre-colored weave is the amount of time you save because time is money.  The second biggest, is the ability to see if you even like the shade on you before dying your natural hair.
For a more natural look, try finding a company that offers darker roots as an option.  To achieve the look below, I used Mayvenn Hair: (3) bundles and a closure were used in the color: #27 Dark Blonde with #1B Dark Roots 18″ Dyed Virgin Indian Straight with Lace Closure.
*This article contains affiliate links.  If you use the link to make a purchase then we will receive a commission.  This is one of the ways we are able to keep bringing you fresh content on this blog.
The following two tabs change content below.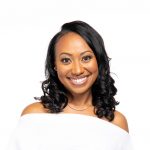 Brandelyn Green is the Founder of VoiceOfHair, a platform to help women of color find the best hair care products, regimens and hairstyles! Since starting VoiceOfHair in 2014 she has grown the social media platform to over 1MM+ on Instagram and Facebook. As a natural who is also a salon goer, she wanted to create a platform where people could find the best products, hairstylists, advice and trends.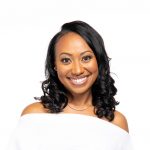 Latest posts by Brandelyn Green (see all)
Facebook Comments