Wedding season is upon us and with it comes excitement about that special day, the joy of bringing two families together and a promise of a lifelong commitment to the love of your life! But with that also comes the stress of planning a wedding and more importantly, planning how a bride will look on that day. After deciding what she is going to wear, the next big decision a bride has to make is how she will style her hair for the wedding. To get some valued tips about styling hair for the big day, Dionne Smith has weighed in on the topic.
Celebrity and Award-Winning Hairstylist, Dionne Smith, is a Bridal Hair Stylist that has the skills to perfectly craft your bridal look and create an amazing hairdo for the most important day of your life! Dionne works with brides from all over the world and has mastered the art of making a bride look as beautiful as she feels for that special day.  Dionne is also the founder of Creme de la Bride Magazine, which has recently launched in the UK targeting the elegant bride of color.  Download your free copy by visiting www.cremedelabride.com
Here are 10 Wedding Hairstyles for Black Brides:
In an exclusive interview, Dionne shares with VoiceOfHair.com some advice for suggestions for brides that are planning to tie the knot! 
 What advice do you have for brides to find a great hairstylist for their wedding?
I would say to use social media places like Instagram and Facebook are great and also wedding directories are always a good place to seek out a hair stylist. Look for stylists that have a strong website too, as you can get to see more and it will help you understand their level of professionalism.
What are the most classic bridal hairstyles (that can stand the test of time)?
A bun, chignon and half up – half down; these styles are going no where and always seem to be winner with brides. You can add and create different elements of these styles to make it more personalized.
Under what conditions should a bride wear her hair up or down?
It really depends on the type of hair you have: relaxed or natural hair, how its styled, and your wedding dress. For example, if a bride has natural hair and decides to straighten it and wear it out for the wedding, it is likely that it will sweat out by the end of the day. If the dress is an off the shoulder dress, hair down or up can work. But if the dress has neck detail she should opt for the hair being styled up. Sounds complicated but there is so much to consider when getting it right and thats way consultations are important.
What kind of budget for her hair should a bride have, in order to command a show stopping bridal look?
I would say prices can range from $300+ if hair extensions are being added.
What are good hair style options for natural hair brides, who want to avoid heat?
Hair up is always a great option, as it will last the entire day and you don't have to worry about the hair texture changing or shrinkage, as the day goes on.
Do you have any any other hair tips for brides on their special day?
Create a moodboard for your stylist on looks that you like, look at other brides that may look similar to you or have the same face shape and see what works for them, then you can have a idea of what works for you and then put a spin on it and personalize it.
Where are you located if someone wants to book with you?
Im located in the UK but available for travel and destination weddings, I also have a full team available of other Hair & Make Up if needed.  Visit my website for more information, www.DionneSmith.com.
Follow Dionne on social media to see more of her amazing work!
The following two tabs change content below.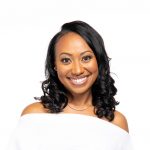 Brandelyn Green is the Founder of VoiceOfHair, a platform to help women of color find the best hair care products, regimens and hairstyles! Since starting VoiceOfHair in 2014 she has grown the social media platform to over 1MM+ on Instagram and Facebook. As a natural who is also a salon goer, she wanted to create a platform where people could find the best products, hairstylists, advice and trends.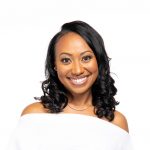 Latest posts by Brandelyn Green (see all)
Facebook Comments