As a professional stylist, I service both natural and relaxed clients. I am often asked the same two questions, "Do you think I should go natural, or should I get a relaxer?" Before the client and I come to the best decision for their hair, there are several factors they have to take into careful consideration:
How do you like to wear your hair most often, in it's natural curly/wavy state, or straight? If you prefer to wear your hair in it's natural state, then a relaxer is definitely not for you. Relaxers permanently change the texture of the hair, so even if it doesn't totally straighten the hair, it will alter your natural curl/wave pattern to some degree. The ONLY way to get rid of that chemically altered hair is to cut it off! However, if you are natural and prefer to wear your hair straight all the time, then a relaxer may be the better choice for you, especially if your hair has a tendency to revert back in humidity or from perspiration. This can help you avoid heat damage from frequent blow drying and flat ironing.
What is your lifestyle like? We all know by now that as beautiful as it can be, taking care of natural hair is a lot more work than relaxed hair. If you aren't a person with a lot of patience or extra time to spend on your hair, natural may not be best for you. Think about whether you have the time to do twists every night, do regular deep conditioning treatments, co-washes or have time for a and wash-n-go to dry. Do you plan to work out frequently? If so, how will you wear your hair post workout? For clients that work out more than 3 days a week, I suggest that they either stay/go natural and wear their hair in it's natural state, or go with a relaxer if straight styles are their preference.
How do you plan to maintain your style?  Whether you plan to keep your hair natural or wear a relaxer, you need a professional stylist that specializes in that area to help you take care of your hair. If you choose to wear your hair relaxed, DON'T DO IT YOURSELF! Go to a salon and get your relaxers or any other chemical services done! If you prefer to wear your hair natural, you can maintain the health of your hair on your own, but you need a professional stylist to trim your split-ends. I prefer to straighten natural hair to achieve the most accurate results with cutting/trimming, but it is not mandatory.
Despite the constant debate, you can have healthy hair that is either relaxed or natural. It all depends on how you and your stylist take care of your hair! Wear your hair however you like it, and which ever way works best for you! Be beautiful from the inside our, and continue to lift your VoiceofHair.
Khristie Jackson~
Instagram: @mrskj5
The following two tabs change content below.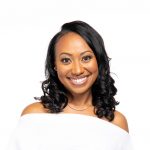 Brandelyn Green is the Founder of VoiceOfHair, a platform to help women of color find the best hair care products, regimens and hairstyles! Since starting VoiceOfHair in 2014 she has grown the social media platform to over 1MM+ on Instagram and Facebook. As a natural who is also a salon goer, she wanted to create a platform where people could find the best products, hairstylists, advice and trends.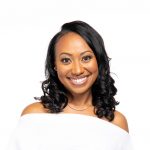 Latest posts by Brandelyn Green (see all)
Facebook Comments