Gray hair is gorgeous. Sometimes it can come earlier than you want but it is important to embrace. Therefore, if you are gray, starting to see gray hairs, or one day know you'll be gray, then don't worry because you can wear your gray hair will lots of style and class. As such, to help you, in today's blog, I want to share with you 5 Beautiful Gray Hair Ideas for Black Women that You'll love.
#1 Gray Pixie Cut
A short cut is perfect for drawing just the right amount of attention to your gorgeous face. Therefore, this is a look for someone who is truly ready to embrace their grays!
credit: @Khimandi
---
#2 Gray Silk Press
Some women prefer to turn their gray hairs black. However, this amazing woman decided to take her grays up a level. Now this, is a perfect platinum bob slay! Most people think gray hair ages you but this beauty actually looks younger.
Credit: @theofficialrazorchic
---
#3 Long, Gray Hair
There's something gorgeous about long, silver hair. Regardless of your age, your silver hair will turn heads because it's absolutely beautiful!
Credit: @hairscapades
---
#4 Gray Natural Curls
The right salt and pepper blend will have even younger ladies rethinking their hair color. This gorgeous lady confidently rocks her curls. Her silver strands are hair goals for sure!
Credit: @thetennillelife_
---
#5 Gray Blow Out
The bigger the hair, the harder they stare! This is especially true with big, silver, voluminous hair. Therefore, let your salt and pepper kinks, curls and coils give you the attention that you deserve.
Credit: @saltandpepperslay
---
BONUS #6 – Gray Dreadlocks
These gray dreads on this beautiful woman show us that gray hair isn't just beautiful on curls and waves but it's also stunning on dreadlocks.
Credit: @nappstar_nyc
---
Finally, many women notice that when they start to go gray their hair starts to feel dry. This is because many people become gray when they are older. When we get older our sebaceous glands do not make as much sebum (natural oil) so your hair can end up feeling dryer than it once did. If this is something you struggle with, you may want to add a natural oil to your hair regimen like the VoiceOfHair PureFix Elixir.
The following two tabs change content below.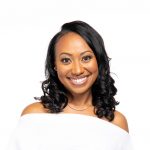 Brandelyn Green is the Founder of VoiceOfHair, a platform to help women of color find the best hair care products, regimens and hairstyles! Since starting VoiceOfHair in 2014 she has grown the social media platform to over 1MM+ on Instagram and Facebook. As a natural who is also a salon goer, she wanted to create a platform where people could find the best products, hairstylists, advice and trends.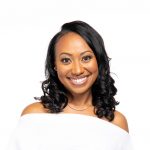 Latest posts by Brandelyn Green (see all)
Facebook Comments