I'm so excited to spill the tea and share with you this new protective hairstyle I have. Even though the summer is coming to an end, I couldn't pass up the opportunity to install Goddess Locs in my hair. I mean, there's no specific rule that this style is only for the summer, right? So just like everyone else, I've been swooning over these locs for monthssss now. Every time I see a picture of it pop up on my Instagram feed, I want to just buckle down and muscle through the 1 billion hours it takes to put them in, I feel like because they're so pretty, it's worth the labor!
But lately I just haven't found the time to put in the work to do them. I've done a tutorial on regular faux locs in the past and I loved the look. But I remember how long they took me and I just couldn't push myself to be interested enough to do them right now. So when I came across these crochet goddess locs by Zury Hollywood, I knew that my prayers had been answered!
Zury Hollywood just released a new crochet goddess loc that mimics the style and curl pattern of the infamous Meagan Good goddess locs. It starts off as a dread and finishes with curly ends. So we don't have to spend hours upon hours wrapping marley hair around a braid and curling the ends to create this style. All you need to do is buy a few packs of this hair and you're good to go! And I took it a bit further by installing the hair in a way that uses no cornrows and instead is installed individually. This was inspired by the #jazznicolemethod and adds to the authenticity of the style.
To Install, I braided my hair in individual plats then installed each loc onto each braid. I did this by doing the regular crochet method at the root of my braid and then pulled my braid though the loc to "hide" it. It is quite hard to explain this method with words, but feel free to watch the tutorial for a visual. I break it down and make it a lot easier in this step-by-step video demo.
My overall thoughts on the hair is that it was so easy to put in and certainly exceeded all of my expectations! I installed about 3.5 packs which made this the most affordable, practical crochet style I've ever done. The hair itself is soft, yet not unbelievably soft. It has a very natural texture to it which helps give the appearance of it growing out my scalp. Aside from the texture and ease of installation, my favorite part is that it is SOOO light!!! My head wasn't weighed down, my neck didn't hurt and sleeping was a breeze. And that's just my top 3 favorite things about the hair. There is so much more that I like. Make sure you watch my video for even more deets and a demonstration of the install.
So with all of that said, I think you can clearly see why I said this is my favorite crochet style thus far. It's easy. It's comfortable. It's inexpensive. And it's beautiful! What more can you ask for?
The following two tabs change content below.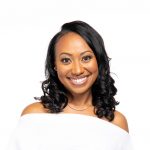 Brandelyn Green is the Founder of VoiceOfHair, a platform to help women of color find the best hair care products, regimens and hairstyles! Since starting VoiceOfHair in 2014 she has grown the social media platform to over 1MM+ on Instagram and Facebook. As a natural who is also a salon goer, she wanted to create a platform where people could find the best products, hairstylists, advice and trends.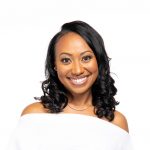 Latest posts by Brandelyn Green (see all)
Facebook Comments