Have you ever seen a bomb hairstyle but you knew you couldn't get it because you didn't have the length or volume to achieve the look?  I know I have!  A lot of times I'll see somebody rocking a fierce bob and their hair looks so full and healthy.  But is it all theirs?  I hate to burst your bubble, but a lot of times it's not!  The best hairstylists  are so talented that they know how to blend hair extensions so well that it would dupe even a so-called "weave expert."
One hair extensions technique that helps you achieve fullness and length is a braidless sew-in with micro links.  I had a chance to talk to Chantelle Norman, owner of Salon Bella Dama in Atlanta, GA to learn more about this technique that is gaining popularity.
What is a braidless sew-in with micro links? What is the benefit of this technique?
A braidless sew-in is a technique that allows hair extensions to be applied to the hair without the natural hair being braided down as a base.  One  safe way to achieve a braidless sew-in is by using micro-links. Micro link extensions can include a variety of methods, depending on the client and type of hair they have.  For Caucasian and Asian hair, it may be better for them use a strand-by-strand technique that adds single strand extensions to their own hair.  However, for most of Chantelle's  clients, her method uses a silicone bead and where she pulls a small section of her cleint's hair  through the bead, before it is clamped with special pliers. Once the bead has been clamped  it gives a firm hold on the hair, preventing the bead from sliding up and down the hair.  The beads create a base for the hair extensions (bundles) to be sewn down, where she can then sew the tracks through the  micro-links and sew the natural hair to the track hair.
I know, it's kind of tricky to understand, but in this video, one of the stylists in Chantelle's salon, Holly Barnes, shows the process of installing the micro-links.
Who is the best candidate for a braidless sew-in?
Braidless sew-ins are great for people looking to achieve a different look with their hair.  Chantelle uses this technique often for clients who want a bob.  
A lot of people don't have enough length on their sides, so I use micro links to give the illusion of fullness.   It's another option for people who aren't ready to cut their hair or for those who have cut their hair but want a longer style.
How long do braidless sew-ins last?
How long your install lasts depends on how you maintain it.   Chantelle said that her salon has seen clients who have kept them in up to 3 months, but 6-8 weeks is the average length of time clients keep them.  When you shampoo the hair the extensions can be retightened, so it is easy to maintain.
The biggest question… is it healthy for your hair?
It can be healthy for the hair if the install is done  properly. An important factor is to ensure that the hair extensions are not sewn down too tight.  You need to make sure the stylist who is installing them is skilled and experienced with this technique.
Does this technique work for all textures of hair (fine, coarse, relaxed and natural hair)?
Braidless sew-ins work on  all textures of hair.  However, you have to purchase the hair extensions to match your natural hair texture, since your hair will be blended with the hair extensions.
How do you take maintain your hair in this style?
When you shampoo the hair,  you blow it out like you normally would. If you are wearing it straight you would straighten the hair (silk press) and style your hair the way you  normally wear it.  Chantelle's salon does this technique a lot.  
My clients love it because it gives them fullness that they couldn't achieve with their own hair
How much does this style run in comparison to a traditional sew in?
This is one of those, "it depends" situations.  At Salon Bella Dama, a full sew-in is $250, which doesn't include hair color or hair cutting services.  However, micro-links are charged on a per-row basis, at $25 per row.  On average, a lot of clients need 3 or 4 rows installed.  So the total price will depend on how full they want their hair.  However, each salon's pricing is different, so check with your stylist to be sure.
Where do you buy the hair from?
Since braidless sew-ins use track hair, or bundles, you can purchase your hair from your regular hair vendor.  Just be sure that the hair you purchase  is going to blend well with your natural texture.
For more of her work follow Chantelle on Instagram at @HairByChantelleN and visit her salon's website, Salon Bella Dama.
The following two tabs change content below.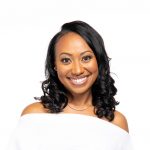 Brandelyn Green is the Founder of VoiceOfHair, a platform to help women of color find the best hair care products, regimens and hairstyles! Since starting VoiceOfHair in 2014 she has grown the social media platform to over 1MM+ on Instagram and Facebook. As a natural who is also a salon goer, she wanted to create a platform where people could find the best products, hairstylists, advice and trends.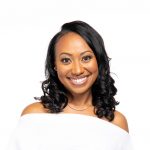 Latest posts by Brandelyn Green (see all)
Facebook Comments