If you're wearing your hair in its natural texture, you're most likely experiencing curl shrinkage. Shrinkage is the difference between what your hair looks like when it's wet and gently stretched to its maximum length and what it looks like when it's dry. While some women love to embrace their shrinkage, some prefer a stretched out look to show their true length.  Do you want to minimize shrinkage as much as you can? In this article we will cover 5 ways to manage shrinkage!
Here are some ways you can overcome your battle with shrinkage.
What is Hair Shrinkage?
Curly hair is drawn to moisture.  As our hair air-dries, the ends dry faster than our roots. As the hair at the end dries, it draws closer to the moisture still present at the roots, causing shrinkage. Now that we know how shrinkage works, here are three tricks to avoid major shrinkage.
Blow it Out
A blowout is your best bet at maximizing your length. This method may give you maximum length because it straightens your natural curl pattern temporarily.  Make sure that when doing a blowout, you deep condition and use a heat protectant. Also, use this method in moderation to avoid permanent heat damage.
Bantu Knots
Bantu Knots are the perfect styling option which helps stretch your hair out without using heat. Take a section of hair and twist it in one direction.  Then take that section and wrap it around and continue to do so until it forms a knot. Tuck the end of the hair under the knot so that it is secured in place.  Repeat this process until your whole head is knotted.
Roller Sets
Using rollers sets is a method you can use to stretch your kinks. You can air dry or sit under a hooded dryer for straighter results. Obviously, this method will only work if your hair is long enough to wrap around the rods. Make sure to comb out any knots before rolling in order to prevent a tangled mess.
Banding
Banding works by using ponytail holders to stretch out freshly washed, damp/wet hair.  Divide the hair into sections and gently wind the ponytail holders around the section from root to tip.  Leave the holders in to allow the hair to stretch as it dries. Allow your hair to air dry, and don't forget to wrap it with a satin scarf or bonnet.  Be sure to use the tangle free. Do not to use this method too often as it can lead to breakage.
Put your hair in a bun
Another way to stretch your hair is by putting it in a high bun when it is slightly damp.  Secure the bun in places with a ponytail holder. This will stretch the curls and give your hair a little more length.  Try wearing the bun for an hour to an hour and a half and take it down. Make sure the bun is tight enough to pull your hair and loose enough as to avoid creases.
The following two tabs change content below.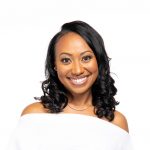 Brandelyn Green is the Founder of VoiceOfHair, a platform to help women of color find the best hair care products, regimens and hairstyles! Since starting VoiceOfHair in 2014 she has grown the social media platform to over 1MM+ on Instagram and Facebook. As a natural who is also a salon goer, she wanted to create a platform where people could find the best products, hairstylists, advice and trends.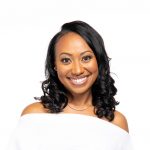 Latest posts by Brandelyn Green (see all)
Facebook Comments