The transition from relaxed hair to natural hair is a process that most of us are very familiar with. Normally during this time, your hair is not as manageable as we would prefer. This can make it difficult to wear certain styles without creating further damage. A lot of women who are transitioning opt for the big chop, but what if you aren't quite ready to do that? In this article we have listed 5 Easy Styles for Transitioning Hair.
#1 Bantu Knots
Bantu Knots do a great job of hiding the straight/processed hair and blending it for a more consistent and curly look. This is a very versatile style that allows you to create curls of all densities. Whether you like big hair or tighter curls, you can achieve the look by adjusting the amount of hair you incorporate into each knot.
#2 Roller Sets
https://www.instagram.com/p/B1hei0JDzvP/
If you want a full head of bouncy life-giving curls, roller sets are your saving grace! These are very popular during the transitioning process. You have the option to use flexi-rods or perm-rods depending on what is more suitable for your curly hair type. Different types of roller sets work better for different hair types, be sure to select the right one for you.
#3 Hair Wraps
https://www.instagram.com/p/BzS9kOEjFXB/
Let's face it, sometimes this transitioning journey gets overwhelming and we just don't feel like dealing with it. Hair wraps are the perfect alternative on those days you just can't take it anymore. With a variety of hair wraps and multiple ways to style it, this creates a very versatile option for those who are transitioning.
#4 Twists
https://www.instagram.com/p/B04Bxupj8b5/
Twists make a great style for those who are transitioning because it allows you to protect your hair from additional breakage. This will give you a manageable style that encourages growth. There are so many variations of twists you can choose from, allowing you to switch it up to fit whatever look you are going for.
#5 Braids
https://www.instagram.com/p/B0T-rd0jRpg/
Just like twists, feed-in and box braids are a perfect way to protect your transitioning hair. You can have peace of mind with this low maintenance style. Braid styles like corn-rows and box braids leave the scalp exposed, making it easier for you to oil your scalp on a regular basis to promote growth and maintain moisture.
Although transitioning is not our favorite part about going natural, implementing these 5 easy styles for transitioning hair can make the process a lot smoother. An important factor in repairing damaged hair and promoting growth is keeping the hair moisturized. The Voice of Hair PureFix Elixir is the perfect 6-1 oil that can be used to restore the health of your hair and help promote growth during protective styling.

The following two tabs change content below.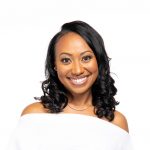 Brandelyn Green is the Founder of VoiceOfHair, a platform to help women of color find the best hair care products, regimens and hairstyles! Since starting VoiceOfHair in 2014 she has grown the social media platform to over 1MM+ on Instagram and Facebook. As a natural who is also a salon goer, she wanted to create a platform where people could find the best products, hairstylists, advice and trends.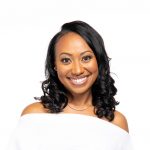 Latest posts by Brandelyn Green (see all)
Facebook Comments