One of the best things about natural hair is that it is so versatile! No matter how kinky, curly, or curly your hair may be, you need to realize that you have options!  Naturalista @Dayelasoul shows us how she straightens her hair without using a flat iron, pressing comb or curling iron.  Sound impossible? Trust me, it's not! You'll be blow away by the results, just like I was.
So what's the secret? @DayelaSoul uses the Silk Roller Wrap  or Silk Wrap Method. This method first stretches your hair out (using a roller set) and then after the hair has been stretched, it allows the heat from saran wrap to silk out the hair.
To use this method you'll need:
Foam Styling Lotion (such as Nairobi, ORS, Creme of Nature or LottaBody)
Hard rollers, preferably wide in shape
Plastic Wrap (Saran Wrap)
Silicone Based Serum (such as Garnier Fructis Sleek & Shine Anit-Frizz Serum)
[product id=2231]
Get the Look:                                                                                                                                                                                                                                           
1. Starting with freshly washed and moisturized hair, roller set your hair and sit under a hooded dryer into your hair is fully dry. You wan to ensure the roots are tight and stretched as you roll the hair.  *NOTE* This method may not work on hair that is not well moisturized or at a "decent" elasticity level (meaning if your hair is breaking off when you pull on it, this method is not for you).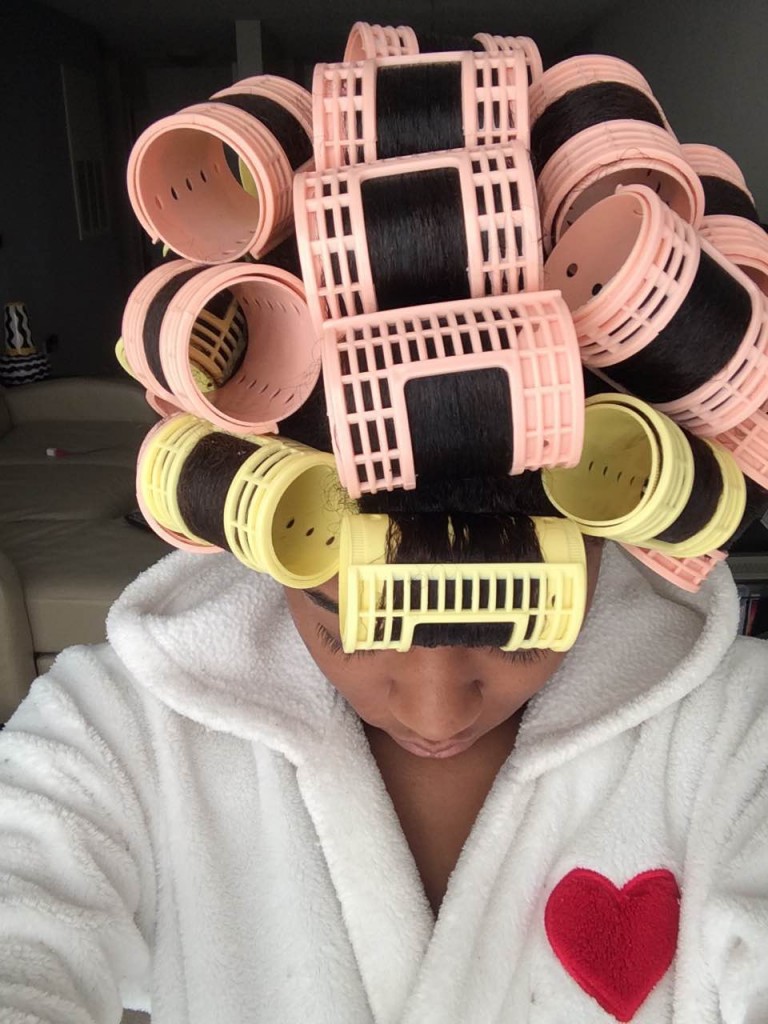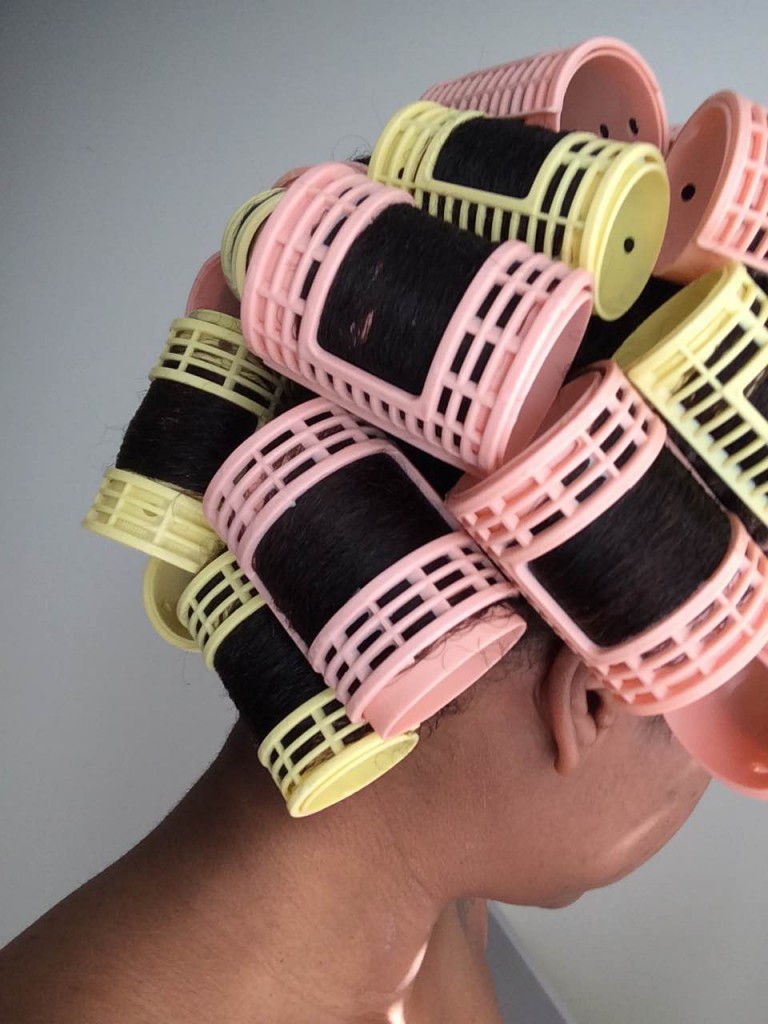 2. Take out rollers, apply a silicone-based product throughout hair and wrap hair as smooth and tight as possible (don't forget those roots).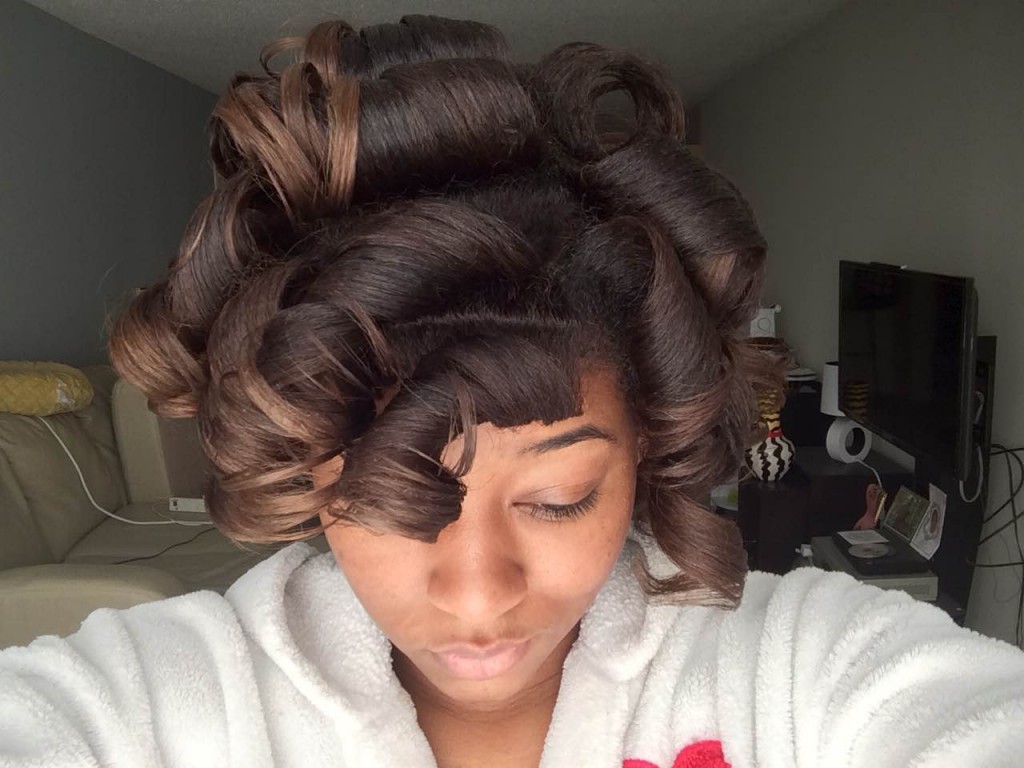 3. Wrap hair tightly with plastic wrap, using a circular motion.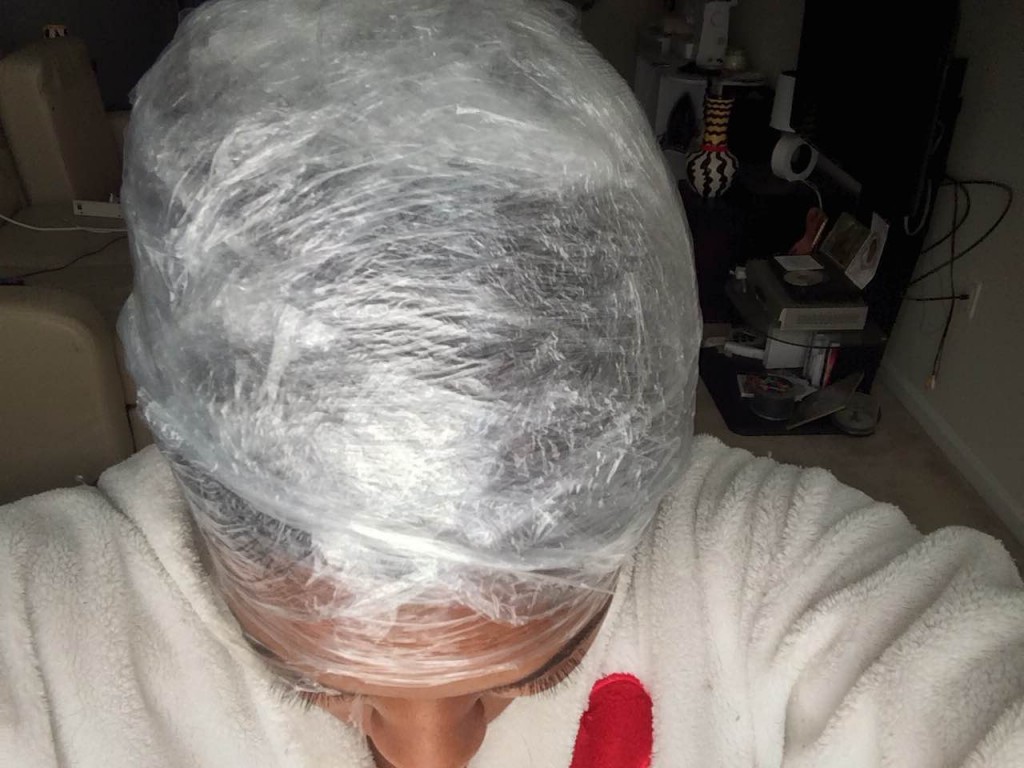 4. Sit under the dryer with plastic wrap secured onto your wrapped hair,  for several minutes, making sure not to start sweating because hair will revert.  Sit under the dryer for 5-15 mins.  You can use a hooded dryer or a soft-bonnet dryer, such as the Laila Ali soft bonnet dryer.
5. Let hair and plastic completely cool off before removing, in a twisting motion.
6. Lightly fluff hair out of the wrap or comb down with a wide-toothed comb to maintain volume and curls.
7. Control those edges and tah dah, using your preferred edge control. This is optional, but if you want those edges to lay smooth– do it!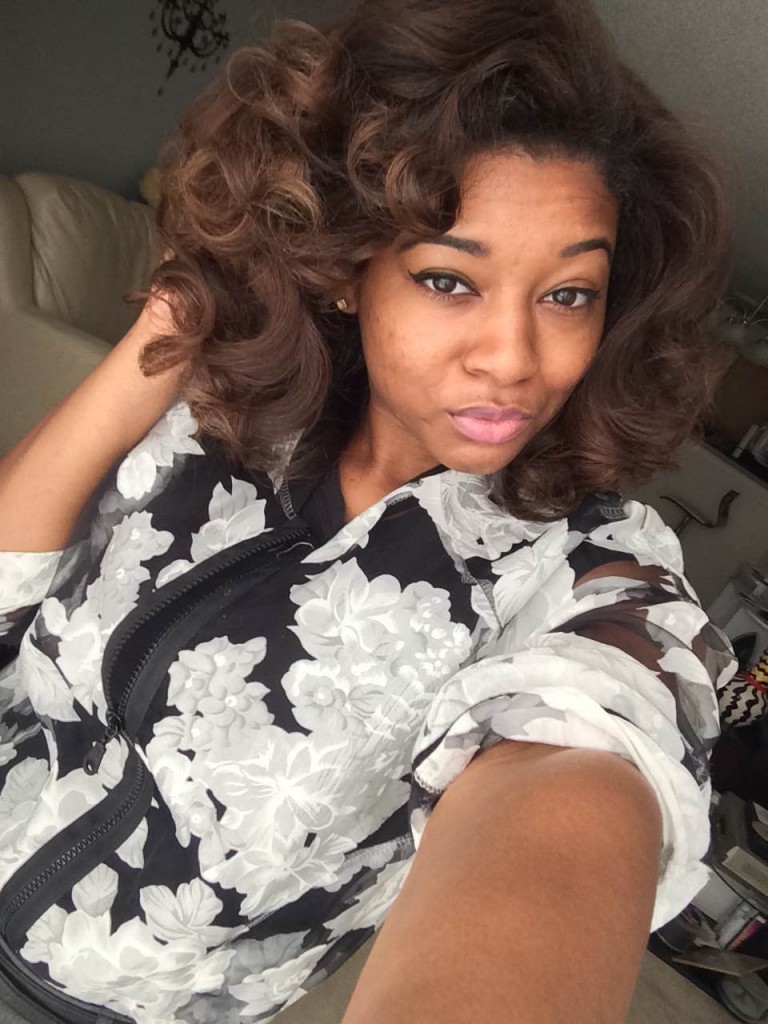 There you have it, big, BOUNCY hair! Look at the body
@Dayelasoul
has and surprisingly, her hair is very straight.  Don't worry if your roots are not silky smooth– this style is all about BODY.  If you're yearning for slick roots, then use a flat iron (on low heat) and touch up your roots– but be careful of straightening your curls.
Nighttime Routine:
When it's time to wrap her hair, here's what @DayelaSoul follows one of TWO options:
A. Wrap hair and cover with a silk/satin scarf and  apply a light moisturizer when needed.
Or
B. Split hair into 4 sections and roll hair with 4 medium grey flexi rods and apply a light moisturizer to each section as needed.
 Things to remember:
Make sure your hair is moisturized well during your wash regimen.
You must wrap hair with a silicone-based product, to get that silkiness when you come from under the dryer, NOT a moisturizer.
My roots were very thick so you may proceed to straighten on low heat with a flat iron or leave it as it is because it still looks fab!
Check out @DayelaSoul's Instagram for more of her hairstyle tutorials!  What do you think about this style? Comment below!
The following two tabs change content below.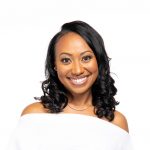 Brandelyn Green is the Founder of VoiceOfHair, a platform to help women of color find the best hair care products, regimens and hairstyles! Since starting VoiceOfHair in 2014 she has grown the social media platform to over 1MM+ on Instagram and Facebook. As a natural who is also a salon goer, she wanted to create a platform where people could find the best products, hairstylists, advice and trends.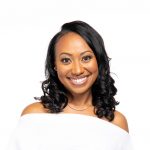 Latest posts by Brandelyn Green (see all)
Facebook Comments