E'tae hair products produce great results for all styles, but they are best known for producing great silk press results. Being that I wanted to have a silk press done; I decided to give them a try!
Carmel Deep Reconstructing Treatment
This product is instructed to go on the hair first. It has honey, bananas, olive oil and a ton of other natural ingredients. I loved the smell of this! Creating natural shine is one of the claims for this product and it defiantly held up to its expectations!
Carmelux Deep Penetrating Treatment Shampoo
This shampoo is sulfate free and enriched with 20 natural ingredients. I am not one who is very sensitive when it comes to looking for a shampoo. As long as it has some great ingredients and gets my hair clean I am good. This shampoo has a great ingredients, smell, lather, and it left my hair squeaky clean.
Carmelux Silk Protein Conditioner
I am not sensitive with shampoos but when it comes to conditioners I certainly am. Reviews are never based on what I look for in a product but what the product claims to do. With this conditioner it is said to eliminate breakage, improve texture and create body and volume. My hair already has enough volume for my whole household so I did not really look for that claim, but I did notice less breakage and a ton of shrinkage. I have never seen my hair shrink up so fast but our hair is magic so I didn't mind it. I absolutely loved the slip and shine that it gave.
E'tae Buttershine
The buttershine is full of moisturizing ingredients. I had applied a small amount before my blow out, and I didn't really notice a big difference. I tried it on a section before my hair was flat ironed and my hair was weighed down slightly. I didn't want to apply too much because one of the keys to a great silk press is to not have the hair weighed down with product. This is one that I will revisit when I do my normal blowout with more product applied.
Over all this line is great! With the proper styling tools and technique this line all together gave me shine, moisture and a great silk press!
The following two tabs change content below.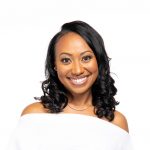 Brandelyn Green is the Founder of VoiceOfHair, a platform to help women of color find the best hair care products, regimens and hairstyles! Since starting VoiceOfHair in 2014 she has grown the social media platform to over 1MM+ on Instagram and Facebook. As a natural who is also a salon goer, she wanted to create a platform where people could find the best products, hairstylists, advice and trends.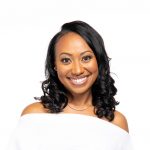 Latest posts by Brandelyn Green (see all)
Facebook Comments