One of the most frequent questions naturalistas have is "how can I get my natural curls to be more defined?"  The answer truly depends on the current condition of your hair and the type of curl pattern you have.  My client, Sarah,  has never rocked her natural curls and with these steps that I'll show you, she  finally feels confident enough to wear her 3c-4a curls!
Earthtones Naturals
was our products of choice. Susan is a Canadian based naturopath that is focused on moisture retention ! The line is filled with humectants and emollients that prove to create long lasting moisturized hair. But do not get it twisted, consistently is still key ! There is no such thing as a miracle product, but there is plenty of hope for a magical regimen that suits your hair best .
These were the steps we followed:
1.Cleanse
We first cleansed with a clarifying shampoo (sulphate base) which I recommend doing on a monthly basis so that you can start on a fresh palette. Our second shampoo was the Curl Cleanse Moisturizing & Conditioning Shampoo. Your first shampoo lifts the dirt while the second one truly cleanses.
2.Deep Condition
My client was left under the steamer for 30 minutes with a mixture of Curl Conditioning Intensive Hydrating Treatment & Curl Replenish Restorative Hair Mask. I love mixing products together ! We recently put some highlights in her hair so the protein based Restorative Mask aids that hair while the Intensive Mask aids the rest.
3.Moisturize
Curl Quench Moisture Milk was applied in sections. I separate the bottom (below the ear) middle ( from the temples) and top (crown) to ensure product gets everywhere it needs to go. I typically use 1-2 pumps per section. Remember , leave in conditioner may not be found in a curl definer. You may need 2 separate products to moisture and define you curls. It is important to use a leave in conditioner to balance the hair's PH back down to a 4.5-5.5 as water raises it up to a 7.
4. Curl Define
We used the Curl  Define Curl Enhancing Gelly following the same steps used for the leave in conditioner. Do not mix these products together as they can curdle . Wipe your hands clean first. Start by raking a dime or quarter size of product through the hair. You can gage whether you need to add more or less depending on the density of your texture. If you do not see the curl you want before you put in your gelly, you need to spritz your hair until desired definition is seen. The hair should be dripping wet during this process. I used  a Michel Mercier detangling brush to help spread the product around evenly.
5. Seal
I used a silicone based oil to seal in moisture and block out the heat of the blowdryer. This help the curl to hold on to its formation that much more.
6. Diffuse
Rather than bumping the hair to diffuse, I hovered over her hair. She has multiple textures going on due to lack of hydration in certain areas as well as some unfortunate heat damage closer to the ends. When I am working with more inconsistent textures that I know may expand inconsistently, hovering is the best way to help the curls hold on o their form. She then shifted her curls from side to side, up and down to get to the roots areas once again without directly having the diffuser touch the hair. Repeat until dry!
These were the results! She is absolutely in love with her natural hair now.
The following two tabs change content below.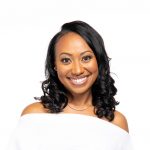 Brandelyn Green is the Founder of VoiceOfHair, a platform to help women of color find the best hairstyles and hairstylists! After living in 8 cities and in Sweden within a 10 year span Brandelyn became frustrated after trying to find trusted hairstylists who could help her maintain her natural hair. Since starting VoiceOfHair in 2014 she has grown the social media platform to over 1MM+ on Instagram and Facebook. As a natural who is also a salon goer, she wanted to create a platform where people could find the best products, hairstylists, advice and trends. VoiceOfHair provides hairspiration (hair + inspiration) as well as styling tips for women with relaxed and natural hair!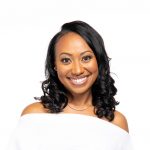 Latest posts by Brandelyn Green (see all)
Facebook Comments