Finger coils are created when you take strands of your natural hair and coil them together to create an elongated coil.  This is a great styling option when wearing your natural hair at various lengths.
I decided to try finger coils myself, after seeing this style on social media.  This was my very first time trying finger coils on my natural hair and I loved them. I didn't really do them with the purpose of unraveling them, I wanted to wear the coils for 2 weeks, but I actually ended up wearing them for a week and a half.
Here's my video on the style, it explains the process 10 times better.
After two weeks I decided to unravel them but I did not like my unraveling results; I think that was because I wore them for so before unraveling long. If you want to wear the actual style, I suggest you unravel them after they are completely dry. I enjoyed having a break from my hair and the fact that it didn't take too much effort to do (although it takes a long time, I believe it is worth it). I used my fingers to twist my hair around. If your hair is shorter, you can just twirl your hair around your finger. Using a comb is also an option. For this style I used the Camille Rose Almond Jai Twisting Butter (WHICH I LOVE) and a little Eco styling gel.  However, no gel is needed if you prefer not to use it, my hair stayed pretty neat the whole time I wore them.
As I mentioned in my video you can also do this with a comb.  Below is an example of finger coils done with a comb
Let me know what you think of this style.  Do you think you'll give it a try?
The following two tabs change content below.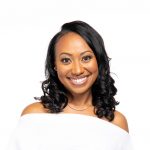 Brandelyn Green is the Founder of VoiceOfHair, a platform to help women of color find the best hairstyles and hairstylists! After living in 8 cities and in Sweden within a 10 year span Brandelyn became frustrated after trying to find trusted hairstylists who could help her maintain her natural hair. Since starting VoiceOfHair in 2014 she has grown the social media platform to over 1MM+ on Instagram and Facebook. As a natural who is also a salon goer, she wanted to create a platform where people could find the best products, hairstylists, advice and trends. VoiceOfHair provides hairspiration (hair + inspiration) as well as styling tips for women with relaxed and natural hair!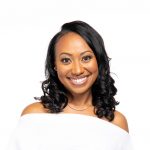 Latest posts by Brandelyn Green (see all)
Facebook Comments