I am inspired by anyone who believes that they can make it despite the odds
Interview with SimSim Styles
How long have you been doing hair? Who or what inspired you to become as a hairstylist?
I have been doing hair off an on for 14yrs . Seriously for 2yrs after I got my cosmetology license. My mom is the one who really inspired me to be a hairstylist because for years she been telling me that my hands are anointed to do hair even when I could barely do a proper style.
You have created a signature style called the Da SimSima.  Can you tell us what that is and how you came up with the style?
My Signature hairstyle Da Sim Simma was inspired from a Hairstyle I did for a hair company in February of 2013. I had to change the back of the hairstyle so it can look like an everyday hairstyle so anyone can rock it and it look extremely stylish. The name came from my name, SimSim.
What's your favorite hairstyle to rock or create for your clients (faux locs, crochet weave, box braids, etc) and why?
During the Fall and Winter season I love Faux locs and Yarn dreads! In the Spring and Summer season I typically wear a hairstyle similar to my signature hairstyle.
What brand of products do you absolutely love and depend on and why?
I love Kera Care shampoo, Shea moisture Conditioner, Virgin Fertilizer Grease, Whole Foods pure Coconut Oil. I'm not a product junkie anymore so I'm not obsessed with a lot of products because I rarely wear my hair out.
What accomplishments are you most proud of? 
This year I am most proud of my my name showing up on the first page in Google when you searching for Faux Locs in NYC.
 What styles and regimens do you recommend to help your clients grow long, healthy hair?
Healthier hair starts within your body.  I always tell my clients to start eating right, drink more water, start taking vitamins because we are getting older. Also, be sure to get your ends trimmed every 3 months.
What's next for you? What can we expect to see from you in the future?
I want to be known as a positive person that encourages everyone who comes around me to strive for the best.   I don't know what's next for me because I'm following God's lead, so just like you I'm waiting to see what He has  next for me as well!
The following two tabs change content below.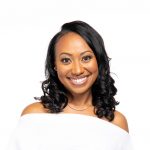 Brandelyn Green is the Founder of VoiceOfHair, a platform to help women of color find the best hairstyles and hairstylists! After living in 8 cities and in Sweden within a 10 year span Brandelyn became frustrated after trying to find trusted hairstylists who could help her maintain her natural hair. Since starting VoiceOfHair in 2014 she has grown the social media platform to over 1MM+ on Instagram and Facebook. As a natural who is also a salon goer, she wanted to create a platform where people could find the best products, hairstylists, advice and trends. VoiceOfHair provides hairspiration (hair + inspiration) as well as styling tips for women with relaxed and natural hair!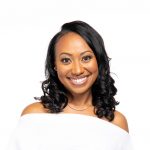 Latest posts by Brandelyn Green (see all)
Facebook Comments