Disclaimer: This is a sponsored blog post.
So who sometimes dreads washday? *Raises hand* Being natural is one of the best decisions I've ever made for myself but I am not ashamed to say that sometimes, I wish my hair would just take care of itself. But when the diffusing is done and the curls are "poppin," I am quickly reminded of why I put so much effort into my hair and am pretty proud of my crown. Adding to the excitement I have for a fresh wash and go is when I know I've used quality products that will only fortify the overall health of my hair. That's where Avlon Scalp Therapy comes in! Not only do these products help with strengthening my strands, it takes special care of my scalp as well.
So, let's get into my wash day routine, step-by-step with Avlon Scalp Therapy.
(Hair, before being washed)
Step 1: Shampoo
To get my hair ready for washing, I first detangle it. This step is 80% of why I dread washday sometimes, but I digress 🙂  Once I got all the tangles and shed hair out of the way, it was finally time to use the Treatment Shampoo. When using the shampoo, I was surprised by its somewhat thin consistency because it coated my hair like butter. The shampoo did a great job of removing the product buildup I had (and I had a lot!) as well as soothing my itchy scalp. Not to mention, my hair didn't feel stripped at all! Removing product buildup and creating slip at the same time is a tough balance to maintain, but Avlon does it well!  Scalp Therapy is also highly effective in combating scalp psoriasis, flakes, dandruff and other related conditions. If you Google reviews online and search YouTube you'll find other reviews from people who have used Scalp Therapy to treat other scalp conditions.
Step 2: Condition
Once I rinsed away all the shampoo from my strands, I grabbed the Treatment Conditioner to further moisturize my hair. As usual, I sectioned my hair into four large sections to make the application process easier and added the conditioner as necessary. To get the most out of this step, I like to use my Denman brush for simultaneous detangling and even product distribution. Once that was finished, I followed the directions that require you to deep condition your hair through a steamer or hooded dryer for 15 minutes. As always, I put on a plastic cap and used my bonnet dryer to help my hair absorb the nutrients. When it was time, I rinsed out the conditioner with cool water to seal my cuticle and my hair was more than ready to receive any styling products I used.
Step 3: Wash-N-Go Styling
Because of all the moisture found in just the first two products, my hair was very manageable even before I added any leave-in conditioner. I Love That! I hate it when conditioners don't leave behind any slip for your hair once it's rinsed out. I don't need to tell you naturalistas how valuable that is when it is time to section for wash and go product application.
( Final, Styled Wash and Go Look)
Once the product application was done and my hair was diffused, it was time to add the Scalp Relief Oil. My scalp has always had a history of getting dry and itchy pretty fast and diffusing doesn't really help. So, Avlon Scalp Relief Oil to the rescue. I love that Avlon included this in the trio because I can feel confident that I won't have any discomfort with my scalp and it will continue to help keep those flakes at bay.
I will definitely be using these products again, especially when I want to clarify my hair without stripping it. So many great products to add to my natural hair product arsenal!
 To learn more about Avlon's Scalp Therapy and other great products they carry, Visit
avlon.com
and follow them
@avlon
(IG and Twitter) and
@avlonusa
(Facebook).
.
Although I received these products and compensation in exchange for my review, all of the opinions are my own.
The following two tabs change content below.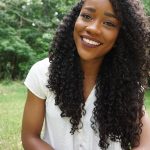 Comments
comments