Spring season is here ladies so it's time to swap out our winter lipsticks and pull out some fresh vibrant colors! Here is a list of lipsticks that you can find in any drugstore or beauty supply store. In this video you'll see my pick of 10 Spring Lipsticks for under $10.
(Prices listed may vary depending on the retailer you purchase them from).
Revlon "Peach Me" $8.69
Revlon "Smoked Peach" $8.69  (or ~$15 for a 2 pack)
Milani (Matte) "Passion" $5.79
Kiss New York "11" $2.99
Kiss New York "12" $2.99
A bold lip can definitely give your whole look a change.  Spring time is the perfect time to try varying shades of pinks and purples as the weather begins to warm up.  The great thing about this is that these lip colors are all very reasonable– so what do you have to lose?  Also, if you purchase your lip colors at a Walgreens's store and you don't like it, they'll let you return it or exchange it.  So really, what do you have to lose? Who knows you may find you next signature color.
All the lipsticks listed are under $10! Step outside your comfort zone and give one a try!
The following two tabs change content below.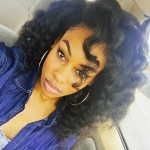 Latest posts by Christine Amor (see all)
Comments
comments